What is eMed?
eMed (formerly Babylon Health) is a remote consultation healthcare provider. Lantum has partnered with eMed to make it easier for you to book into remote consultation shifts.
How do I start working for eMed?
Only GPs that have completed eMed's onboarding process are eligible to see and apply for eMed shifts through Lantum. Once you've completed the onboarding process, eMed will send you a laptop and provide all the training and resources you need to successfully deliver patient care.
Start the process by joining the eMed formerly Babylon Health staff bank.
What are the benefits of working with eMed through Lantum over another provider?
Note: GPs aren't able to work some eMed shifts with Lantum and others with another provider, they must choose one or the other.
Can't work one week? No problem. Because GPs use Lantum to "opt-in" to shifts, there's no need to swap shifts or re-arrange your plans — you can simply choose not to apply for shifts during the time you'll be unavailable.
If there are specific hours you'd like to work, Lantum can make a special request on your behalf to have eMed create a custom shift for you.
Shifts worked with eMed also have access to free Rocketpay, where you'll get paid the next business day.
How much does eMed pay?
eMed remote consultation shifts are paid at £75 per hour.
When do I get paid if I work eMed shifts?
If you work and submit your invoice for a shift before 31st December 2022, Lantum will pay you the next working day via Rocketpay. You will not be charged a fee for this service before 31st December 2022.

Opt-in to Rocketpay to continue receiving next-day payments after 31st December 2022. This service will be charged at 1.5% unless otherwise specified.
Am I eligible to work eMed remote consultation shifts?
In order to work eMed shifts you must:
Be more than six months post-CCT with

face-to-face

experience as a salaried NHS GP since qualifying
- If you're more than one year post-CCT, you need to have experience as a face-to-face, salaried NHS GP in the past two years
Long-term GP locum experience may be accepted instead if it is either:
- More than six months in a face-to-face NHS GP locum post
- A regular locum post as a face-to-face NHS GP locum in a single practice in the past two years
You must also:
Provide up-to-date compliance documents

Provide proof of up-to-date revalidation and appraisal

Provide confirmation of being on the NHS Performers List

Not be subject to an ongoing GMC investigation

Have no restrictions on practice

Provide an up-to-date and well-formatted CV reflecting:

Current/most recent post(s)

Previous experience including any previous work with eMed

Details about any gaps in your employment history
What is the onboarding process?
After you join the eMed formerly Babylon Health staff bank and create a Lantum account, you must complete several onboarding steps:
Upload your documents.

Once eMed has approved your profile, they'll send you your laptop and setup instructions.

Complete two training modules — one on using eMed's systems to effectively consult with patients, and the other on privacy and security. Both modules must be completed within a week.

Complete a mock consultation with the eMed team

Log on to your personal eMed Clinical Portal, which you'll use to see patients.
Once you've completed all the onboarding steps, you can start applying for shifts with eMed through Lantum.
Please email support@lantum.com if you have any questions.
What documents do I need to upload for eMed?
Enhanced DBS

(if you don't have one, you can

apply for a new enhanced DBS

for free via Lantum)

Passport

(and

Right to Work

if needed)

Fire Safety

Moving and Handling

Health, Safety & Welfare

Infection Prevention and Control

At least one clinical reference.

Lantum will reach out on your behalf if you don't have a reference to upload

Photo of yourself facing the camera on a plain background
Can I apply for eMed remote consultations if I am not based in England?
No. You must be in England when doing eMed remote consultations. You will also need to be registered on the GMC and the English National Performer's List.
I'm not due for my revalidation yet, can I still apply?
You can still apply if you provide evidence of when you next revalidation date is.. In most cases a GMC letter or website screenshot is acceptable, as long as your name and the revalidate date are clearly visible.
I'm not a GP, can I work eMed remote consultation shifts?
Only GPs can work eMed remote consultation shifts.
Is there a minimum commitment?
There is no official commitment, but we encourage you to work at least three or four shifts a month. To ensure you stay up-to-date with eMed's processes and software, you may be asked to undergo training again if you do not work a shift within a three month period.
Are there any pension contributions?
There are no pension contributions for eMed remote consultation shifts.
What is the duration of the shifts and when are they?
The duration and start time of each shift varies. See the screenshot below for shifts that are typically available.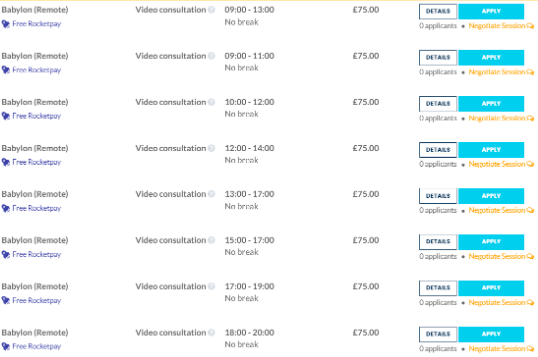 Are the shifts conducted via telephone or video?
The vast majority of consultations are via video, but patients do have the option of choosing to have a telephone consultation. Telephone consultations are also delivered via eMed Clinical Portal platform.
Do I need to pay for the laptop?
eMed will send you a laptop free of charge for you to conduct the remote consultations. If you stop working for eMed for three or more months, you must return the laptop to eMed.
Is eMed training paid?
The training session is a one-off mock interview that lasts less than an hour and is not paid.
What IT system does eMed use?
eMed operates on their own system called eMed Clinical Portal. You'll receive training on eMed Clinical Portal during the onboarding process.
Do I need indemnity cover?
eMed provides indemnity cover to all GPs working eMed remote consultation shifts.
How many appointments are we expected to get though in an hour?
Appointments are 10 minutes long. Each hour there are five appointments and a short break. This hourly pattern repeats itself for the duration of the shift. If an appointment is taking longer than expected you can advise eMed of the delay using the chat function in the eMed platform.
What happens if a patient needs to be seen?
If a patient needs to be seen in person, you can refer them to a clinic or send them to urgent care, A/E or 111.
What type of patients will I see during my shifts appointments with?
All eMed patients are private.
------
Customer Support
If you experience any technical issues or have questions, please contact the Customer Support team.
You can get in touch either by using the online chat in the bottom left-hand corner or via email support@lantum.com