As a minimum criteria, your CV should contain:
Your full name
Your GMC number
Details of where you studied/qualifications and completed your training
At least the last 3 years of work history if you finished your training a while ago
Details of at least two clinical referees and their work professional email addresses (NHS, doctors.org.uk, etc), i.e. people who have worked with you within the last 3 years, who are also qualified doctors. Your clinical referee should be in superior role or GP colleague, e.g. a Clinical Lead, GP, GP partner or GP trainer.
Please see example below: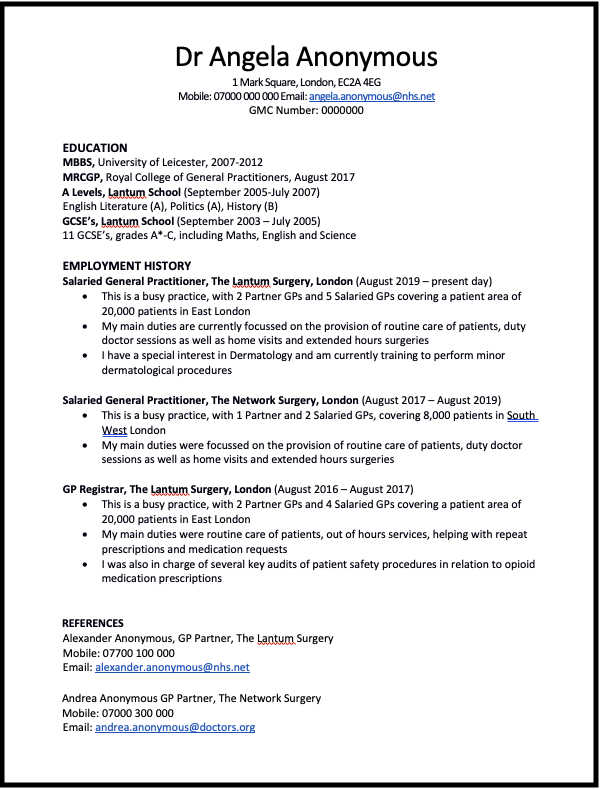 Lantum requests clinical references for all GPs when they become approved to work on our platform and on receipt, the completed references are uploaded to your profile. This means that Practice Managers do not need to ask you for referee contact details, nor do your referees get constantly approached by practices.
------
Clinical Governance
If you'd like to chat with a member of our Clinical Governance team about your documents, please email clinical.governance@lantum.com
Customer Support
If you experience any technical issues or have questions, please contact the Customer Support team.
You can get in touch either by using the online chat in the bottom left-hand corner, or via email support@lantum.com