Would you like to negotiate the hourly rate or the time?
When you use Lantum to book your sessions/shifts, you are able to use our 'Negotiate Session' feature.
On the 'Find work' page, underneath the 'Apply' button of the session that you're interested in, you will see the 'Negotiate Session' (it may also show as 'Negotiate Shift') link.

Once you've clicked the 'Negotiate Session' link, you'll see a popup box where you can amend the rate to the hourly rate you desire and a free text box to message to the practice/rota manager. When you've filled in your desired rate or time and left a message for the practice, click 'send negotiation'.
See an example below, where the time has been changed: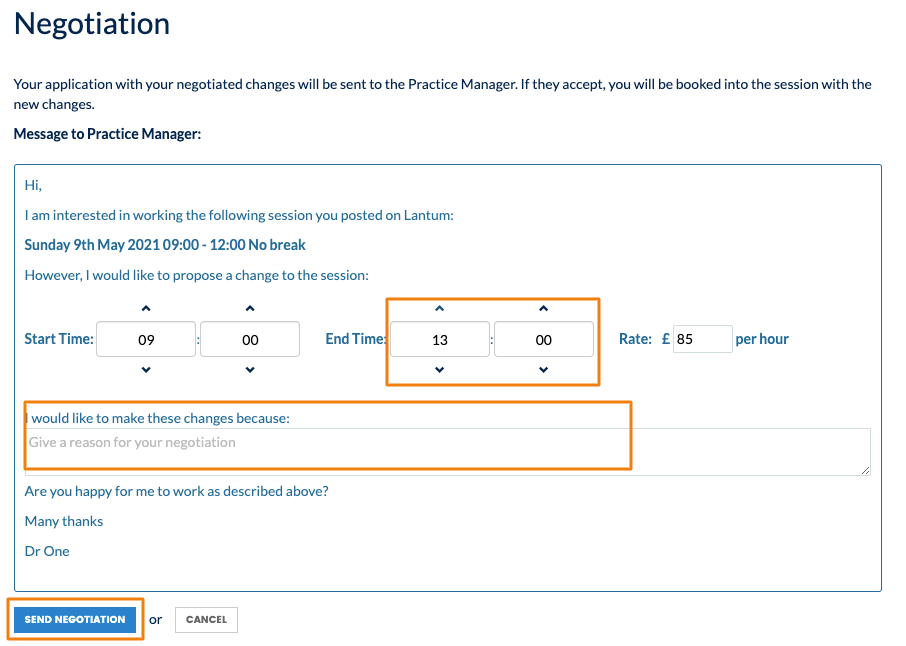 If a practice accepts your desired rate/time, they will book you into the session. If they'd like to negotiate this further, they will respond to your message.
------
Customer Support
If you experience any technical issues or have questions, please contact the Customer Support team.
You can get in touch either by using the online chat in the bottom left-hand corner or via email support@lantum.com