Lantum requires to see your 3 core documents to be able to approve your profile. These are your DBS, CV and Passport.
Once these 3 core documents are approved, you will be able to apply for most sessions.
You will know if your account is approved because this will be stated on your profile as below:

However, there are some practices that have set extra mandatory requirements to be able to apply for sessions there.
The most common of these are:
2 Clinical references
Basic Life Support certificate
Safeguarding Adults Level 2 certificate
Safeguarding Children Level 3 certificate
Data Security Awareness certificate
Immunisations
If you are unable to click 'apply' for a session, try hovering over the button. You should be able to see the full list of the extra requirements to the practice needs to see, as below: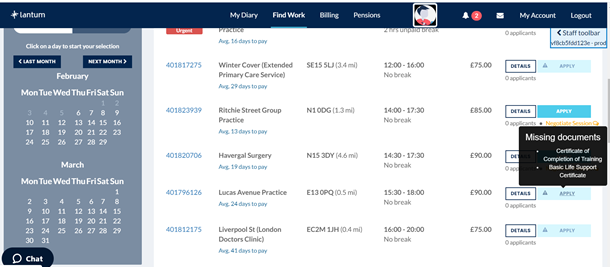 You'll need to upload the necessary documents to the correct fields on your profile and wait for these to be approved by the Clinical Governance team before you're apply to apply for the session.
Clinical Governance
If you'd like to chat with a member of our Clinical Governance team about your documents, please call 020 3790 7463 or email clinical.governance@lantum.com