Rocketpay is our new next business day payment service.
Key facts:
You will be paid on the next business day. (excluding sessions in-scope of IR35)

Payments are made directly into the GPs bank account

One month free trial

Only a 1.5% fee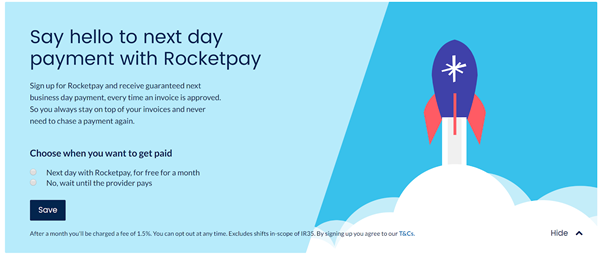 How do I sign up to Rocketpay?
Click on your billing page and choose when you want to get paid. We offer a one month free trial.
Can I cancel Rocketpay at any time?
Yes, GPs can cancel Rocketpay at any time by clicking on My Account and Rocketpay preferences.

Can I choose which sessions I would like on Rocketpay?
No, if you sign up to Rocketpay, this will be on all sessions invoiced (except for sessions with exempt providers).
What happens if I submit a timesheet change?
The next business day payment will not be activated until the timesheet has been accepted and invoice created.
If I sign up for Rocketpay, will I get paid for all previous unpaid sessions?
No, unfortunately Rocketpay is only for new sessions once you have signed up.
Will my pension forms be signed when I get paid by Rocketpay?
Your pension forms will not be signed until the practice has paid the invoice to Lantum.
If a practice pays by direct invoice, the user won't qualify for rocketpay with these sessions.
Customer support
If you experience any technical issues or have questions, please contact the Customer Support team by emailing support@lantum.com.