The first step to get paid is to invoice the practice. Lucky for you, we've made this easy on Lantum!
How to create an invoice
Log into your account

Access the 'billing' section; this can be found at the top of the page.

Your completed sessions will appear in the 'not invoiced' section.

Click 'view timesheet' next to the relevant jobs.

Once you've clicked on 'view timesheet', make sure your hourly rate, number hours worked and payment account is correct. If everything is fine, click 'generate invoice'.

Once you've clicked 'generate invoice' the invoice will be automatically generated and will be sent to the practice for payment.

The practice will pay Lantum to pay you - Lantum processes payment every Tuesday and Thursday so as soon as we have received payment from the practice we will process this into your account.

You can track the status of your payment on your billing page under unpaid invoices. You can see when the invoice was sent to the practice and if we have sent a payment reminder to the practice.

Once your invoice has been paid by the practice, it will be moved to the paid tab on your billing page.

We have also introduced a new payment method called Rocketpay. This means that you will be paid on the next working day. You can sign up to Rocketpay on your billing page.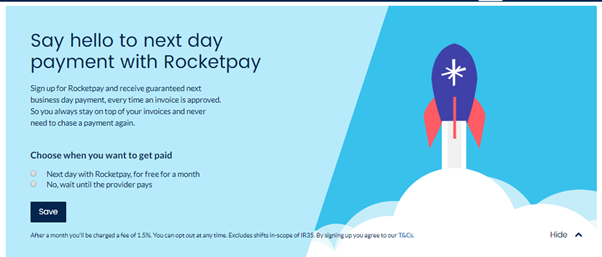 Customer support
If you experience any technical issues or have questions, please contact the Customer Support team by emailing support@lantum.com.