To get paid after you have worked a job you must invoice the practice. We've made this easy on Lantum (formerly Network Locum). Simply log in and go to the 'Billing' Section; this can be found at the top of the page in the blue bar.
Creating an invoice
1. After your session, your job will appear in this section. Click 'Create Invoice' next to the relevant jobs.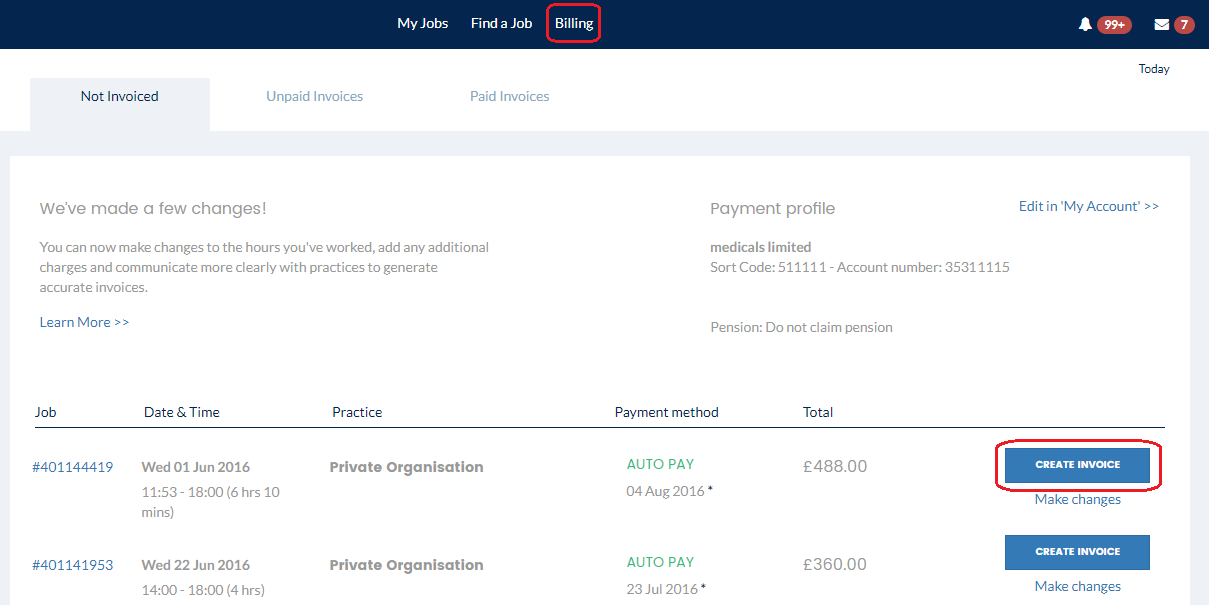 2. Once you've clicked 'create invoice', you'll see the below pop up box. Here is where you can check the hourly rate, hours worked and the payment account is correct. If everything is fine, click 'generate invoice'.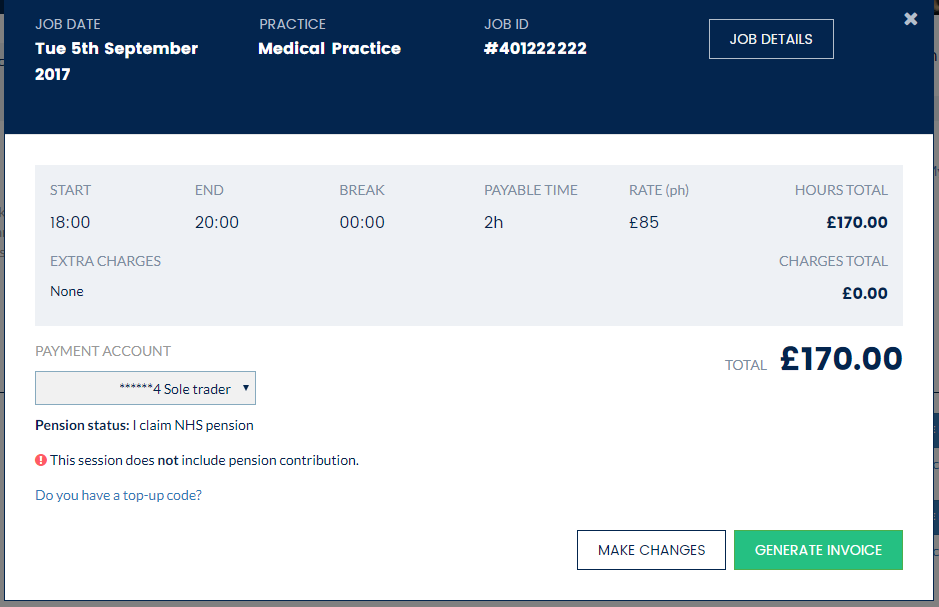 Once you've clicked 'generate invoice' the invoice will be automatically generated and will be sent to the practice for payment. 
If you have worked extra time or are claiming extra expenses:
1. Click 'Make Changes.'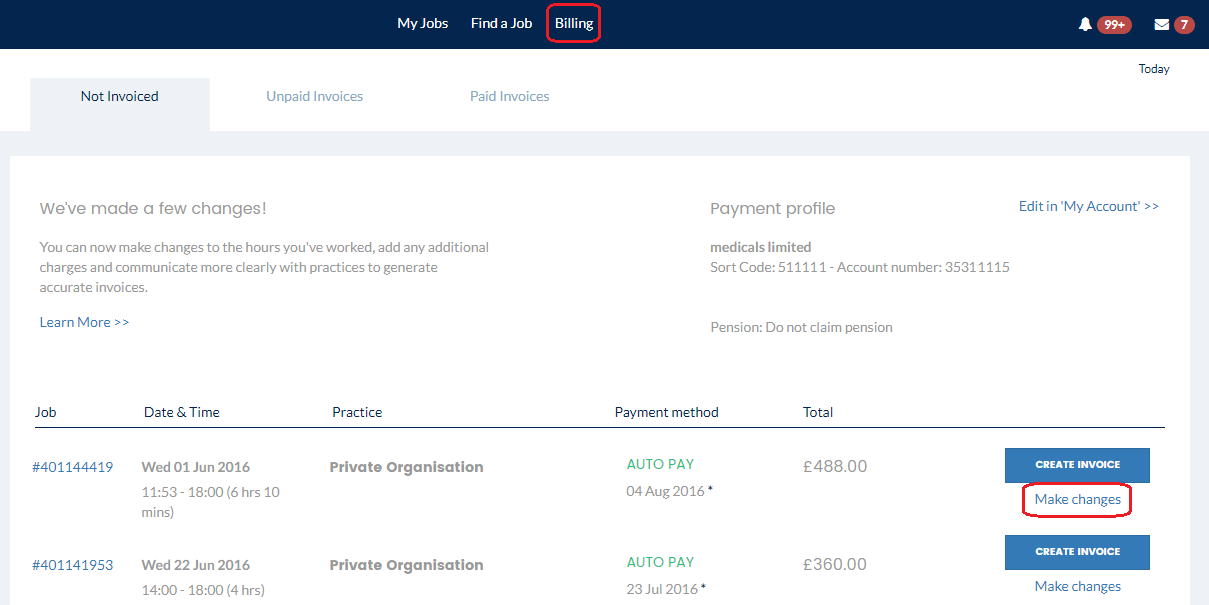 2. You will see the below page where you can edit the times that you completed and a free text box to explain to the Practice Manager why you would like to create an invoice that is different to what has been agreed.
Please note: It is important that if you wish to bill for extra hours, you must speak to the surgery whilst you're there to inform them, then in the free text box make a note of the person who you spoke to in regards to the extra time. 
3. Once you've entered your changes, click 'send' and the practice will receive you disputed hours and they will need to agree to the changes before the invoice will be generated.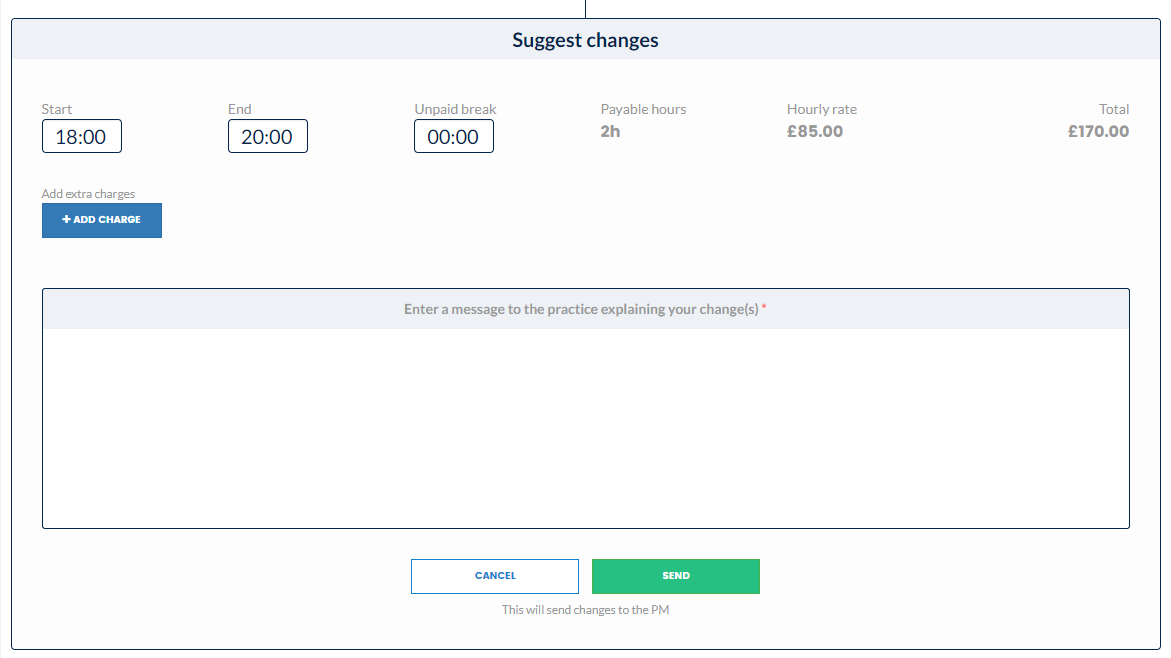 You and the practice must come to an agreement on the additional hours billed. Once the agreement is made your correct invoice (and pension form if applicable) will be automatically generated and sent to the practice for payment.
If you are claiming NHS pension contributions: 
On your 'payment details' page, please tick the 'I claim NHS pension' tick box.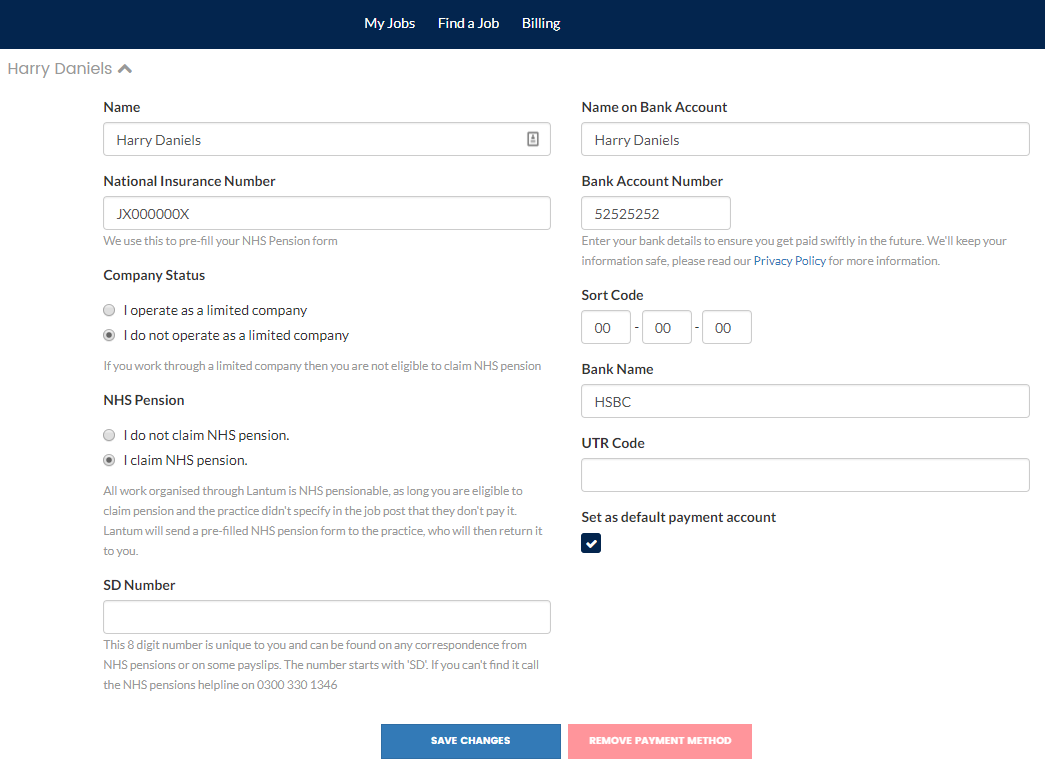 Your pension form will be automatically generated and sent to the practice for them to sign and post back to you. You do not need to do anything, although you will see the blank form uploaded to the website for your information. 
Please note: Only tick the 'I claim NHS pension' tick box if you are would like a pension form to be generated with your invoice
Customer support
If you experience any technical issues or have questions, please contact the Customer Support team.
You can get in touch either by using the online chat (08:00-21:00 weekdays, 08:00-20:00 weekends) in the bottom right-hand corner or email support@lantum.com.
Alternatively, call us on 0203 771 8411 (08:00 – 21:00 weekdays, weekends 08:00 – 20:00)
One more thing…
If your page display differs from the example layout, please download or update Google Chrome for the latest version.