Making timesheet changes
Tags: Timesheet / Changes / Billing / https://lantum.com/gp/billing/invoice-needed
If you have completed a shift and want to make changes, for example, you agreed to work an extra 30 mins, you must do this before creating your invoice.
All timesheets can be found within your 'Billing' section and under the 'Timesheets' tab
Please follow the steps below if you need to make changes:
1. Click 'View Timesheet'

2. The below page will appear. You can then click 'Amend timesheet'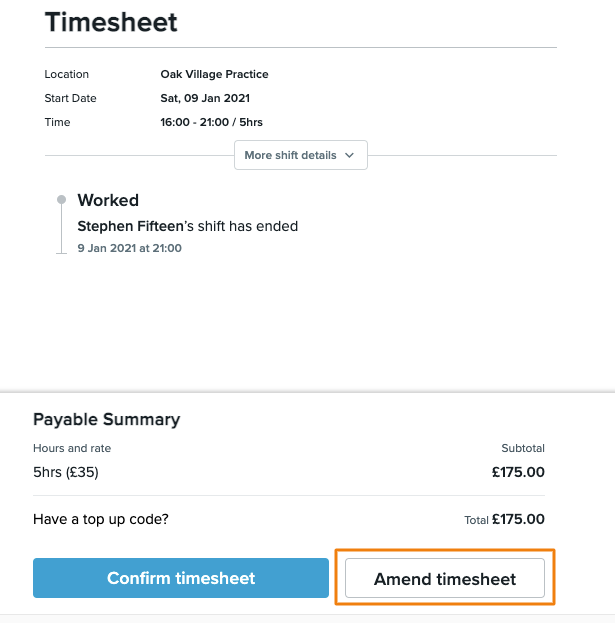 Please note: It is important that if you wish to bill for extra hours, you must speak to the surgery to inform them, this is usually done at the time when you are working the shift. Then in the message box make a note of the person who you spoke to in regards to the extra time
3. Edit the details as per your change (hours, extra charge etc), add the relevant comments to the 'message' box
4. Once you've entered your changes, click 'save and submit'. This will send a notification to the Practice regarding the changes made for them to review. They will need to agree to the changes before the invoice will be generated and sent to the Practice for payment
5. You can track the status of your payment on your 'Billing' page under the 'unpaid' tab. You can see when the invoice was sent to the Practice and if a reminder has been sent to the Practice for payment*
6. Once your invoice has been paid, it will be moved to the 'Paid' tab on your 'Billing' page
Lantum App: you can now make changes through the latest version on the app, see more details in this helpful video guide.
------
Customer Support
If you experience any technical issues or have questions, please contact the Customer Support team.
You can get in touch either by using the online chat in the bottom left-hand corner or via email support@lantum.com