Most locum GPs are paid via Lantum unless specified otherwise by the Healthcare Organisation.
If you are not a GP, you are often paid directly by the Healthcare Organisation, this should have been confirmed by them when you were invited to sign up, if you are unsure of your payment status please refer back to them.
Creating an invoice on Lantum is super easy, please follow this helpful step by step guide.
How to create an invoice
1. Log into your account
2. Access the 'Billing' section; this can be found at the top of the page
3. Your completed shifts will appear in the 'Timesheets' section. Click 'view timesheet' next to the relevant shift

4. Once you've clicked on 'View Timesheet', make sure your hourly rate, hours worked and payment account is correct. If everything is correct, click 'Confirm timesheet'.
If you have completed a shift and want to make changes, for example, you agreed to work an extra 30 mins, you must 'Amend timesheet' before creating your invoice. Please follow this guide: How do I make changes to my timesheet?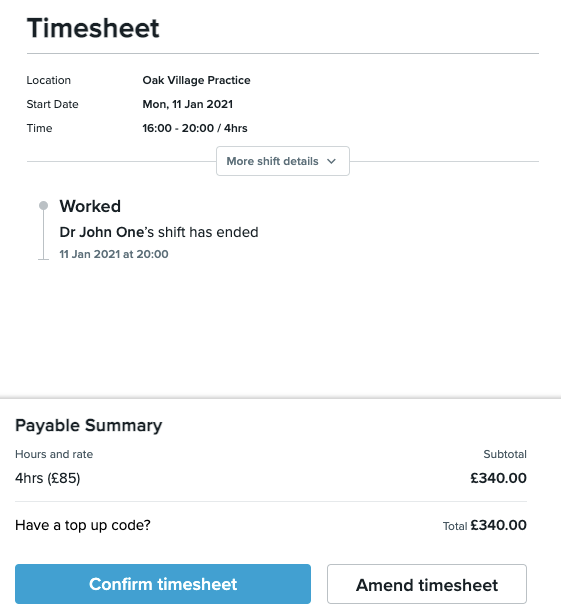 5. Once you've clicked 'Confirm timesheet' the invoice will be automatically generated and will be sent to the Practice for payment.
Payment
1. The Practice will pay Lantum to pay you - Lantum processes payment every Tuesday and Thursday so as soon as we have received payment from the Practice we will process this into your account*
*If you have opted in to our RP service, your payment will be next working day.
2. You can track the status of your payment on your 'Billing' page under the 'unpaid' tab. You can see when the invoice was sent to the Practice and if we have sent a payment reminder to the Practice
3. Once your invoice has been paid by the Practice, it will be moved to the 'paid' tab on your 'Billing' page
------
Customer support
If you experience any technical issues or have questions, please contact the Customer Support team. You can get in touch either by using the online chat in the bottom left-hand corner or via email support@lantum.com