The My Staff page on the top navigation bar allows you to manage the staff that have worked for your practice through Lantum, as well as the staff that you have invited.
On this page, you can: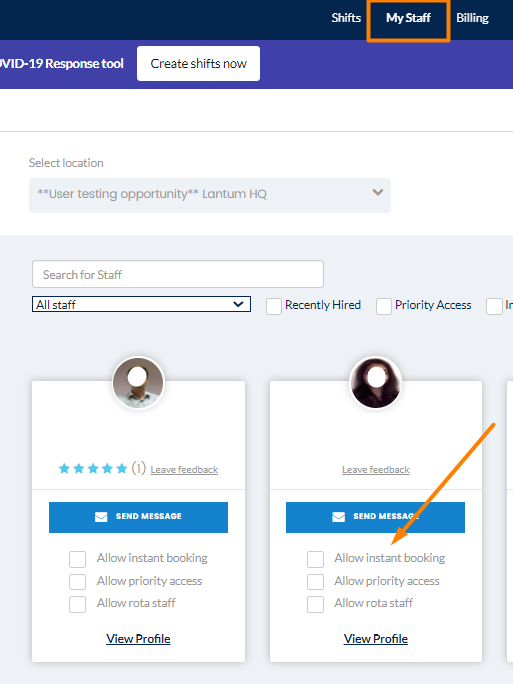 Invite staff
By inviting your own staff to Lantum, you'll be able to manage all your invoicing and locum sessions in one place.
1. Click the Invite button in the blue box locate at the top right hand corner.

2. Enter the staff member's full name and email address, then click Send Email Invite.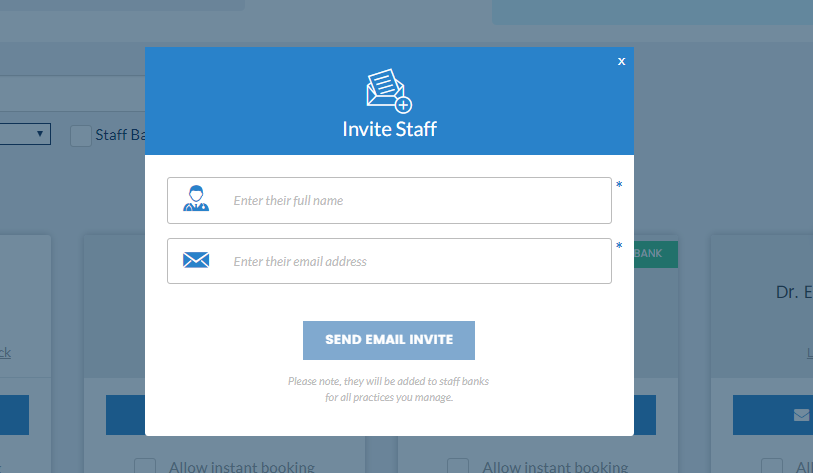 3. Once the staff member has joined Lantum, they will be added to your my staff pages. Staff that are invited will have a green "Invited' label in the top corner of their profile.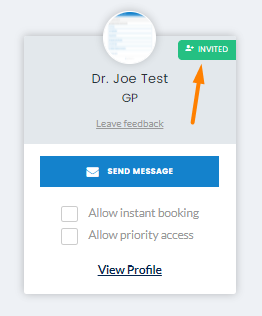 Those without the "Invited" label are staff members who were introduced to you via Lantum.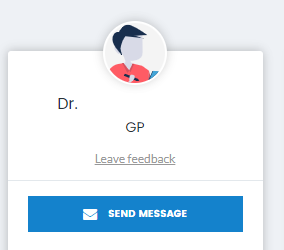 Enabling instant booking for a staff member
Instant booking allows you to give a staff member the ability to book any posted sessions, without requiring your approval. This is a great way to prioritise staff that you enjoy working with.
1. Click on the staff member you want to allow to instantly book shifts. This will open their profile.
2. Tick the Allow instant booking option under their name on their profile.
Please note that you will not receive notifications on shifts booked via Instant book. To check if someone has instant booked onto the shift, simply click into the shift to see if it is filled.
To stop a staff member from being able to instantly book shifts, just untick the same box.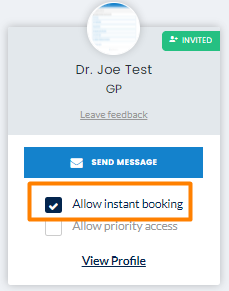 Enabling priority access for a staff member
If you would like to post a session so that only certain staff members can see it, you can do this by allowing those staff members priority access.
You can set the period that you would like to isolate the session when posting the job. After the specified time, the sessions will be visible to all doctors. Please see our Priority Access FAQ for more information.

To put a staff member in your Priority Access group, tick the 'Priority Access' icon on the staff member's profile card. To remove a staff member from your Priority Access jobs group, simply untick 'Priority Access.'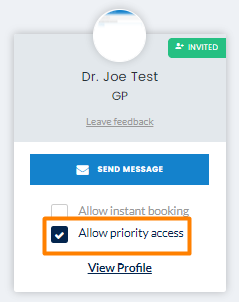 Sending a message to a staff member
If a GP has worked at your practice before you can message them directly through the site. We have built in a messaging centre so that you can contact your locums directly.

The messages will be delivered both to their personal email inbox as well as their Lantum message inbox, their reply will go to both your direct email inbox and your Lantum message inbox.
If you need to contact a staff member who has worked at your practice before, you can do so my going to your My Staff page, searching for the staff member and clicking Send Message.
Leaving feedback
Thank staff for their work and let them know how they can improve by leaving them feedback.
Here's how to leave feedback:
1. Find the staff member you want to leave feedback for, then click Leave feedback on their profile.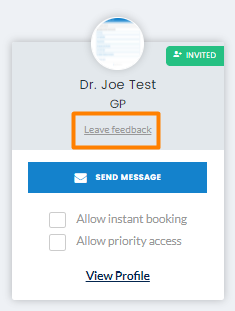 2. Here, you will be asked to do two things:
Give the staff member's work a rating out of 5 stars, with 5 being exceptional. This rating will be visible to all practice managers.
Leave a comment for the staff member, reflecting the professional work that the staff member conducted during the session. This comment will only be seen by the staff member, so we advise you to be as constructive as possible.
3. Once you have completed your feedback, press Submit.
4. If you wish to edit your feedback after you have submitted it, click Edit feedback on the staff member's profile.
------
Customer support
If you experience any technical issues or have questions, please contact the Customer Support team. You can get in touch either by using the online chat in the bottom left-hand corner or via email support@lantum.com