Finding locums for your empty shifts couldn't be any easier with Lantum.
To get started, click on "Create a Job" in the top blue bar (or click the 'add' button on calendar day you need cover for).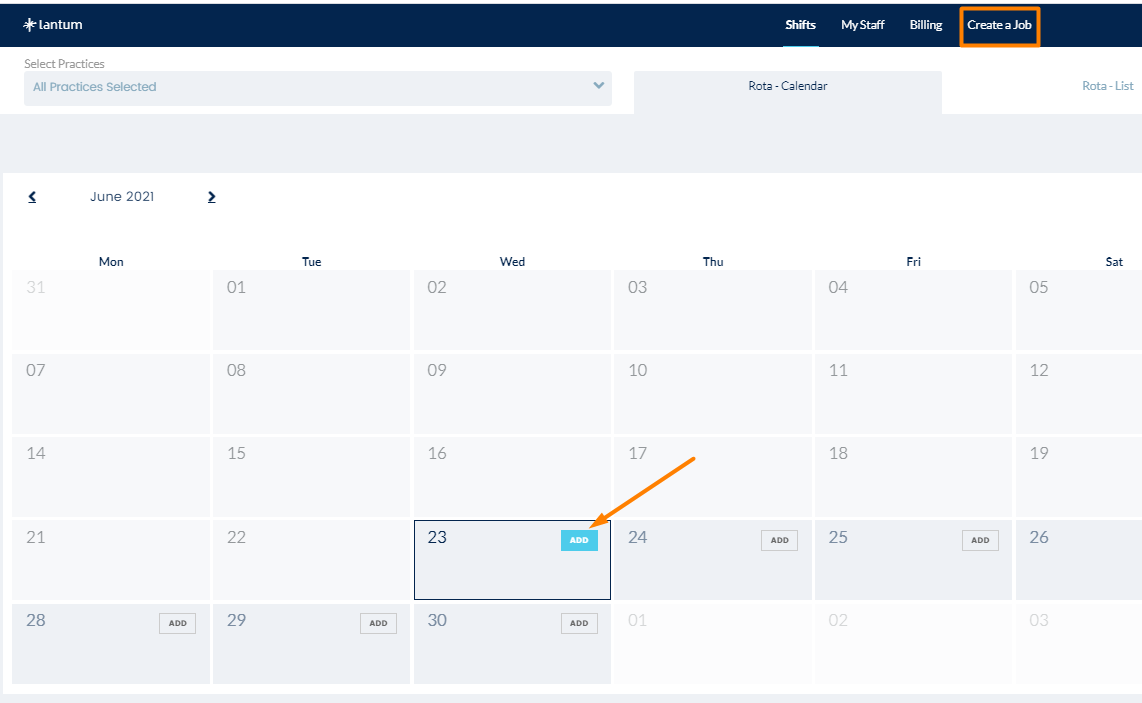 Step 1
Choose the practice site that you need locum cover for (*only if you manage multiple practices, otherwise this will not be visible and you can proceed to Step 2)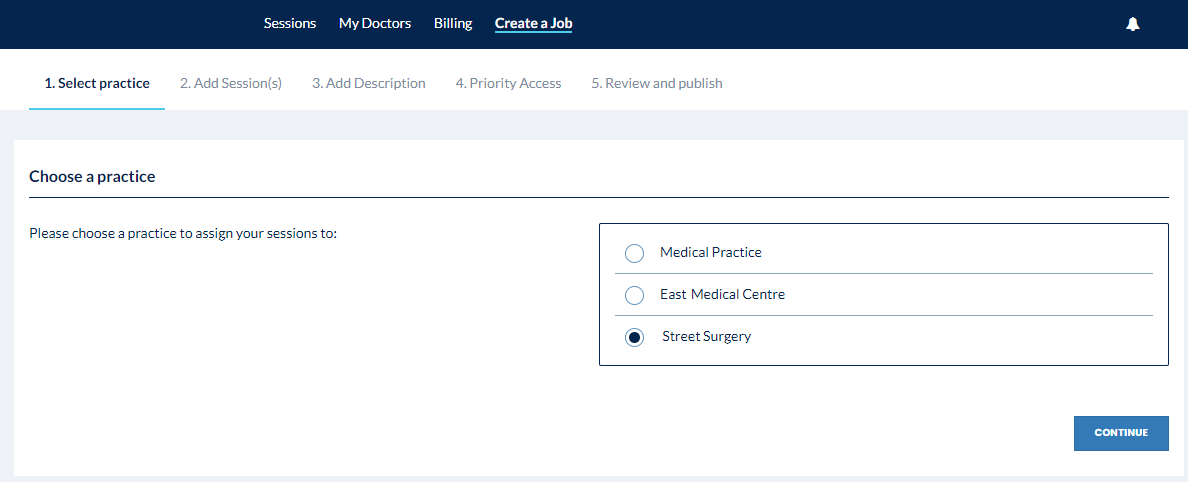 Once you've chosen the right practice, click 'continue'.
Step 2
Here is where you can select the date and time of the session that needs to be covered.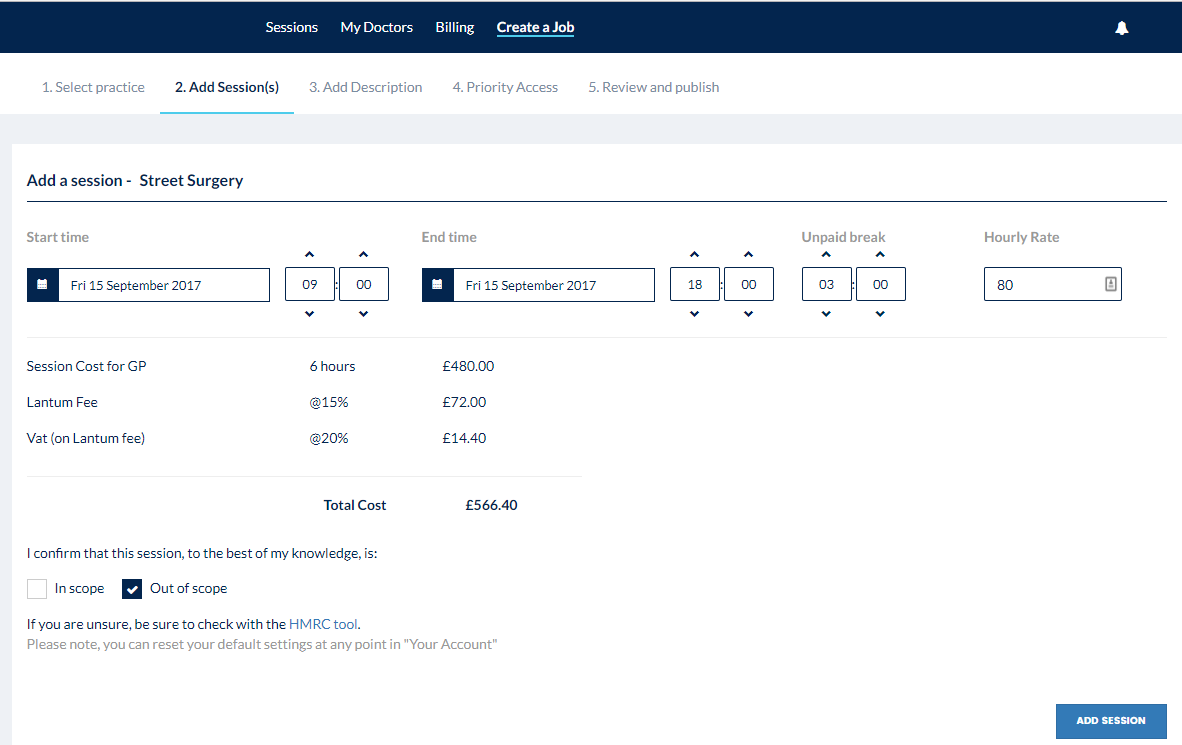 Set session date & time
You need to enter one session at a time
Select the date, start time and end time of the session (end time is usually the same day unless your session is for an overnight shift).
Add the duration of the break (where applicable)
For example, a 9am-6pm shift with a three- hour lunch break will read:

Start time 09:00 AM
Stop Time 06:00 PM
Break Duration 180 minutes
Add hourly rate
Set the hourly rate that you would like to pay the GP
After setting the rate - your total fees payable for a session will be displayed. This includes the Lantum service fee (before and after VAT).
'In scope / Out of scope' of IR35
You must confirm whether the session is 'In scope' or 'Out of scope' of IR35. If you are unsure, be sure to check with the HMRC Tool.
Click the 'add session' button once you have selected the date and times
To post multiple sessions:
Click the 'Add another session' button
Pick additional dates, dates and times
Specify the rate.
Once you have added all sessions click 'Next'

Step 3
Please include as much detail as possible in the job description to increase your chances of finding a GP.
When posting multiple sessions this session description will be applied to all dates selected in Step 3.
We have created a form to make creating a job description easier for you and the GP. When you've filled the session information form out once, these details will prefill for next time you create a session.
Useful information: An option to add any further information that will be useful to the GP.
Working hours and structure of the day from start to finish
Expected number of patients to be seen
Administration time - Will referrals be required?
Procedure for prescriptions
Whether home visits are required and any details regarding additional fees.
We advise you to be as detailed as possible. Some GPs do not apply if the session description does not include sufficient information.
You can also review your dates at the bottom of the screen again should you need to make any changes.
Once you have completed this stage select 'Next'.
Step 4
If you have doctors that you regularly work with and you wish to give them access to the sessions first before posting them to all GPs near you, you can do that on this step.
If you do not wish to give priority access to GPs or you do not have any doctors in your 'My Doctors' then click 'next'.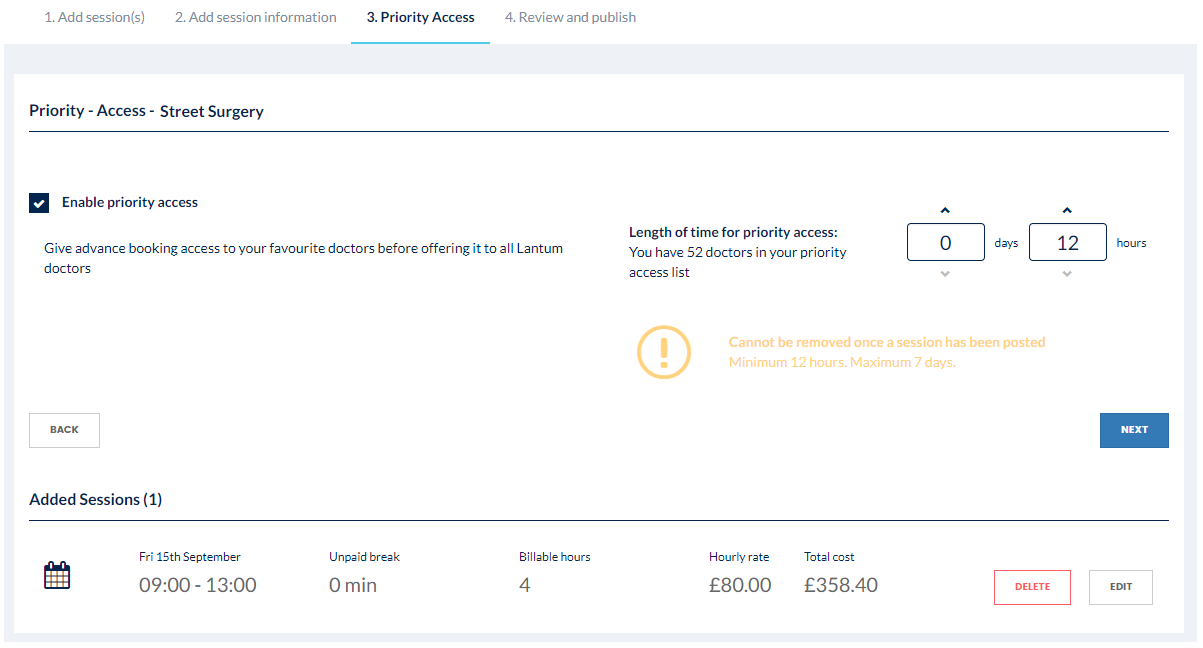 To publish the job to GPs in your Priority Access group (GPs that you have granted exclusive access to jobs for a specific period before enabling all GPs to see it) follow the below instructions:
Enable priority access by ticking the box
Enter the duration to keep this job in Priority Access. This is the time during which the job will only be visible to GPs in your priority access list. Timings range between 12 hours to 7 days.
The session will become public to all Lantum GPs once the Priority Access time limit has passed.
Step 5
The final step is to review the sessions you've added and checking all the details are correct before making your sessions public to all GPs.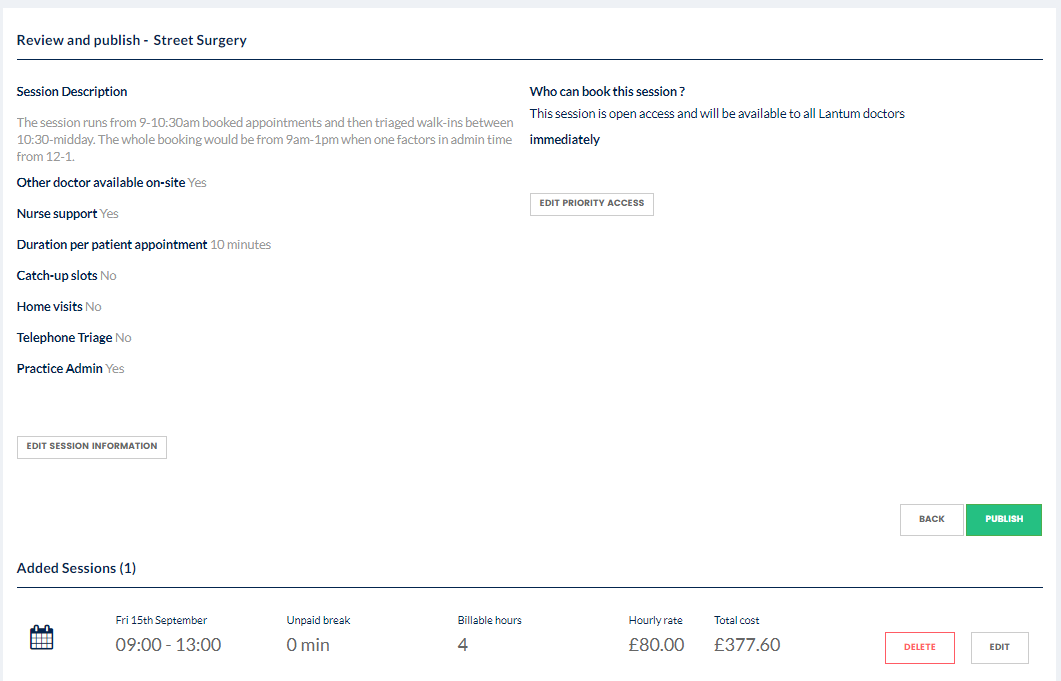 You can review your session here, and edit any details that you wish to change.
Edit any session by clicking on the edit button next to it – this will take you back to Step 2 to re-enter the information and re-confirm it.
To finish, click the green 'Publish' button at the bottom of the form
After you've posted the session, GPs in your area will see your jobs on the website and smartphone app, as well as receive emails and texts where appropriate.
Step 6
To check your posted sessions, click on 'Sessions' for an overview of all jobs at your practice.
Here you can then view all posted, pending and approved sessions via the Rota Calendar or Rota List.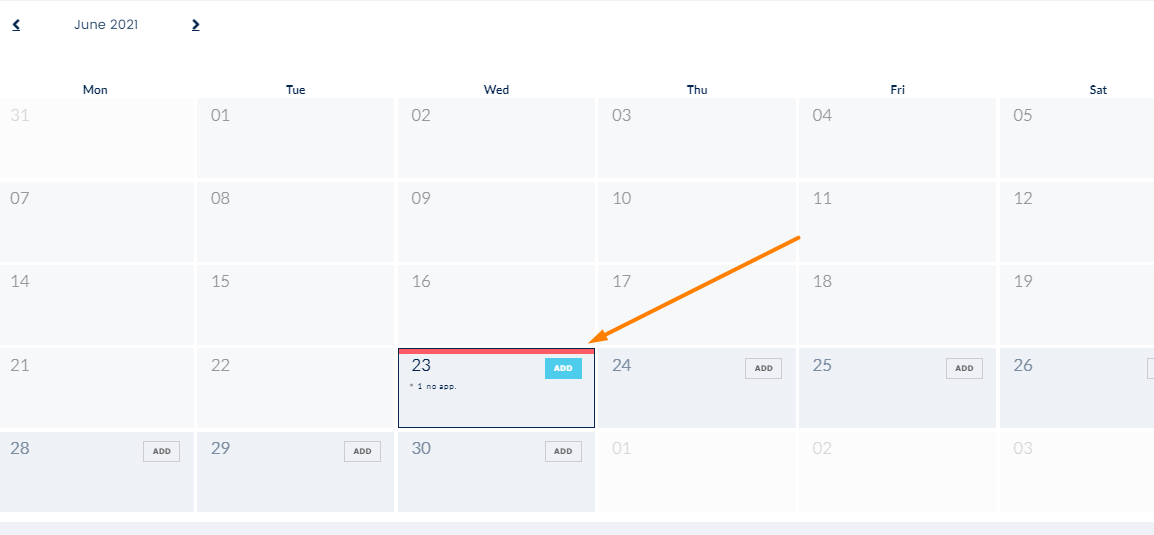 If you need to edit the session you've posted you can do this by clicking on the day of the session. The session will then appear on the right hand side and can edit the session by clicking Edit.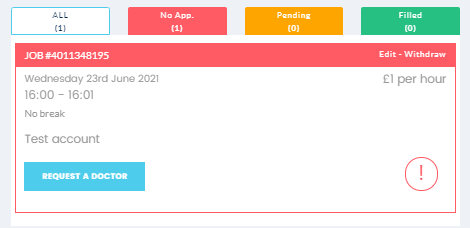 Note: If you have arranged any sessions outside of Lantum and haven't been able to post it on Lantum, please contact Customer Support who will be able to post the session for you.
------
Customer support
If you experience any technical issues or have questions, please contact the Customer Support team. You can get in touch either by using the online chat in the bottom left-hand corner or via email support@lantum.com
.