If you ever experience any technical issues or have questions, please don't hesitate to contact the Customer Support team here at Lantum.
You can get in touch via live chat 💬, email 📧 or phone 📞!
Contactable times
Monday - Friday : 08:00 - 21:00
Saturday - Sunday : 08:00 - 20:00
*Our support team are available on Bank holidays also
Live Chat 💬
Instantly connect with one of our online support members. The chat feature is located at the bottom left hand side of the Lantum webpage.

To start a live chat please select 'Get in touch' > Live chat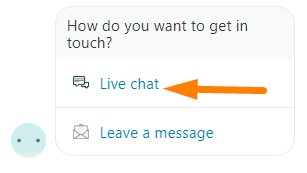 You will need to provide a name, email address and query details. Once submitted, you will be connected with the next available agent!
Email 📧
To reach the Customer Support team by email please reach out to support@lantum.com
Phone 📞
You can also reach out support team on 0203 771 8411.
Please note if no one is available to take your call, please leave a message and we will aim to get back to you as soon as we can.