If you have received a top-up code, and have met the requirements you can easily enter to receive your top-up payment.
Once you've worked a session, you will be prompted to update/confirm your timesheet. Make sure you review and action this straight away, so you don't end up waiting for payment.
1. A timesheet will automatically generate in the 'Billing' section of your Lantum profile. Click 'View Timesheet' to review the details.

2. View your timesheet, ensuring the details are correct. Any amendments can be submitted at this stage by selecting 'Amend Timesheet' and making the appropriate changes. For more information, please read 'How to make changes to my timesheet'.
3. At the bottom of you timesheet for the session that meets the criteria of the top-up incentive, please enter the relevant code in the box provided.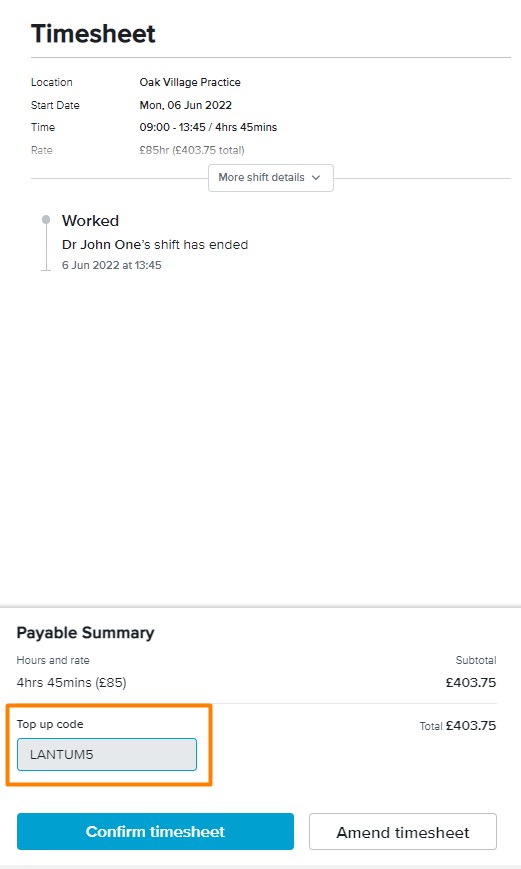 If these details are correct, simply press the 'Confirm Timesheet' button.
The invoice will move across to the 'Unpaid' section of your 'Billing' page until it has been paid.
Payments for sessional work are remitted by Lantum. You can choose to opt in to Rocketpay which is a service that pays you the next business day after raising an invoice at a fee of 1.5% of the sessional rate. If you are opted into Rocketpay, timesheets with amendments will be paid the next business day after the practice confirms the changes. If you are opted-in to Rocketpay, please note that there will be no 1.5% charge on your top-up payment
Alternatively if you choose to opt out you will be paid once the Practice pays Lantum at no cost.
What happens if I forget to input my top-up code?
Please contact Lantum's customer support to manually add your top-up code. You should send them your top-up code and the session that it is applicable to. Please bear in mind that this may delay your top-up payment so we encourage you to carefully review your timesheet before confirming your invoice.
Top-up conditions
Top-ups can only be issued for one session on one timesheet. Multiple timesheets will not be considered. Top-ups are non-pensionable and are paid weekly on a Friday, separately to your session invoice being paid. The incentive must be redeemed within 12 months of the session worked date.
------
Customer support
If you experience any technical issues or have questions, please contact the Customer Support team. You can get in touch either by using the online chat in the bottom left-hand corner or via email support@lantum.com.