If you haven't read the help guide on 'How to get set up in response to the vaccine rollout' please start here first.
Once you're all set up, please use this guide to help with finding vaccine work on the Lantum platform.
Contents
----------
Finding Work
To find work on Lantum please click on the 'Find Work' tab, this will show all shifts available.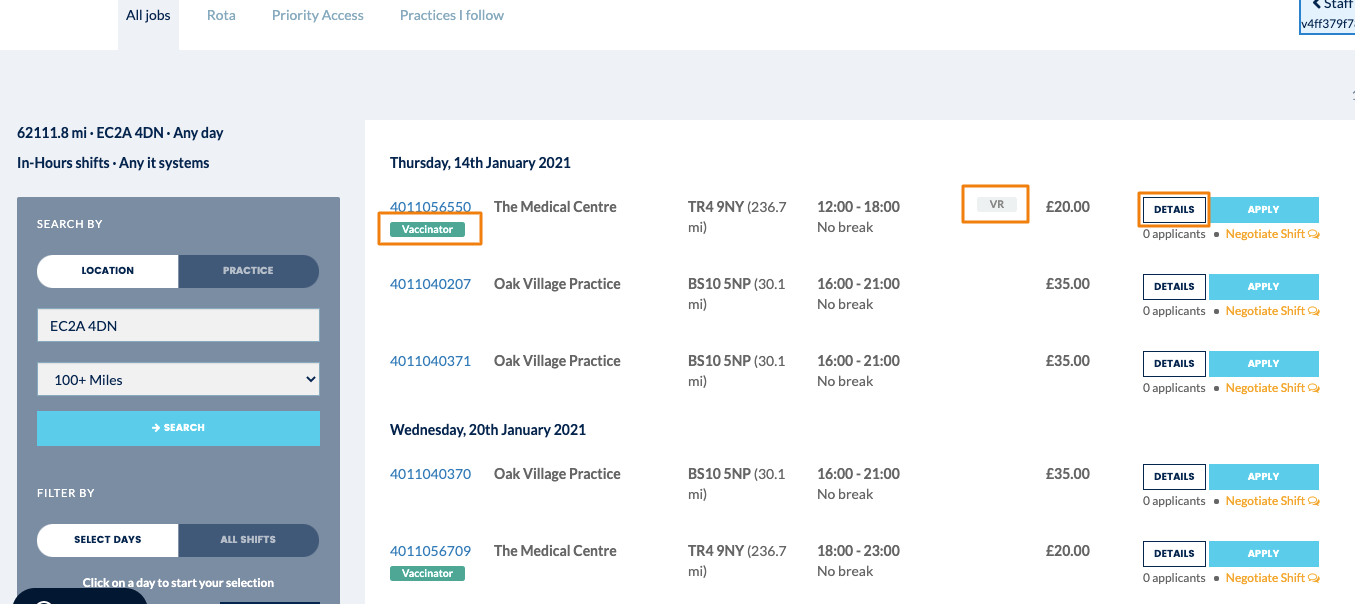 There are various filters available:
Location

- this search is generated by your postcode to show local shifts (automatically set up)

Miles

- by toggling the mile radius (to your postcode)

Practice

- type the name of a Practice to see the results for that one only

Date

- book shifts in advance by toggling the dates

All shifts

- shows all vacant shifts for all days
When available shifts appear, they will show the following:
Practice name, postcode and the distance from your search location

Rate and shift times, as well as any unpaid breaks

Option to negotiate shifts
For more information about the shifts, you can click on the 'Details' button next to the 'Apply' button.

If you can't see any shifts, then please speak with your healthcare organisation to see if shifts have been posted for your role or check back in a few days. See more on shift availability below.
What Do Vaccine Shifts Look Like?
All shifts that can be seen on the 'Find Work' page are eligible for you to apply.
Healthcare organisations are making the use of 'cover rules' when posting shifts.
What are 'cover rules'?
Cover rules can be used to allow staff from one staff type to see and apply for shifts that have been posted to a different staff type.
For example, within 'Find Work', you may see shifts available showing
'Admin' but you are signed up as a receptionist or an HCA,

'Vaccinator' but you are signed up as a practice nurse
You can apply for these shifts, see an example below:

These cover rules are set by the healthcare organisation and allow the rota manager to post a particular shift that is available to all the appropriate staff types that have the skills to work the shift.
Labels On Shifts
Shifts may also include labels, this allows for a quick snapshot of some extra information about the shift. For further context on what the label means, you can click on the 'Details' button. A popup will appear showing further details of the shift, under the heading 'Shift labels' there will be a description for what these labels mean.
In the example below: JS = JET Service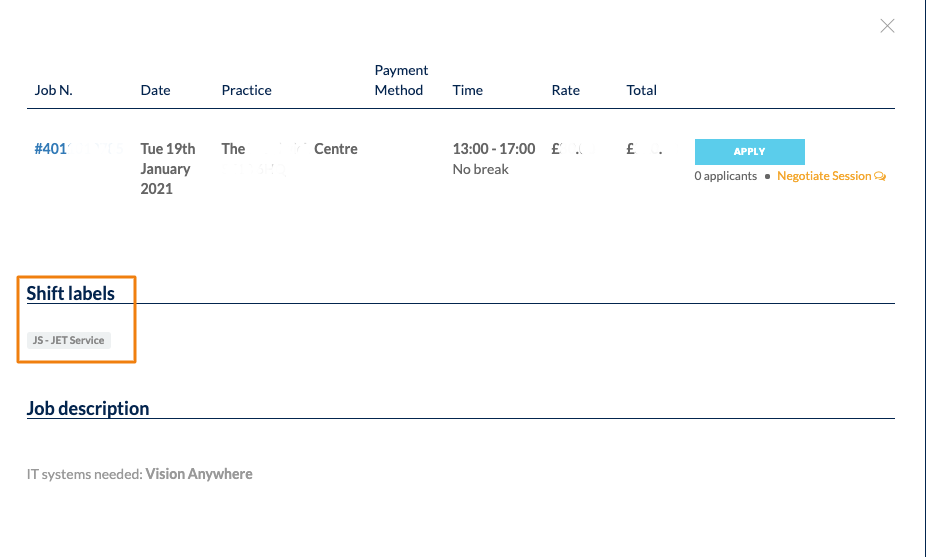 Other example labels could include:
Lead GP - LG

Vaccinator (registered professional) - VR

Vaccinator (unregistered professional) - VU

Reception - R

Clinical Observation - CO

V - Volunteer

R - Remote shift
Applying For A Shift
Apply for a shift directly from the search results by clicking 'Apply'. You will be prompted to confirm; then your application will be sent to the rota manager.
Once your application is sent, the apply button will then say 'withdraw', please note this is there if you would like to withdraw your application. You can read more on this here.
View all your applications under 'My Diary' these can be seen as a 'Calendar' view or a 'List' view. Any applications will show as a light orange colour.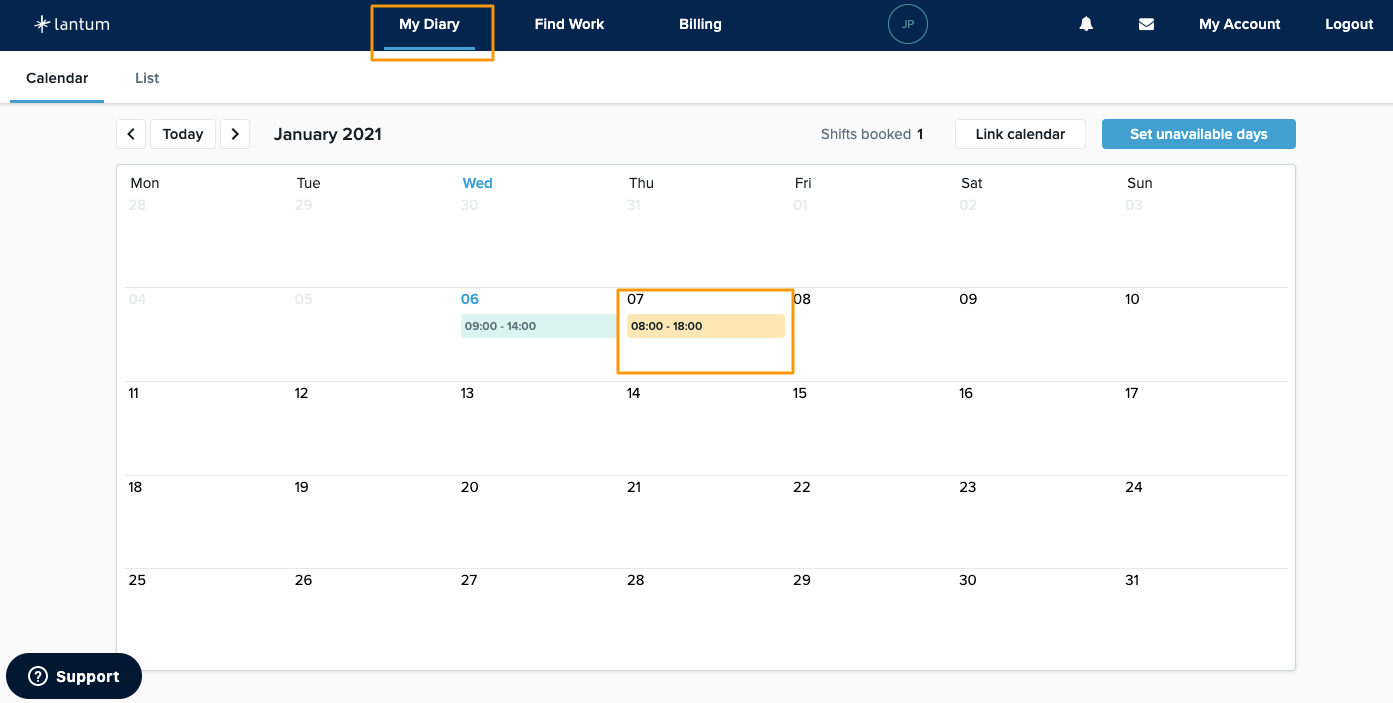 TOP TIP: Apply for as many shifts as you like on the same day. The site will automatically withdraw any conflicting applications as soon as an application is accepted and booked in.
You will be notified when an application has been automatically withdrawn or accepted. If you are unsure please double check your Lantum diary.
If you wish to ask more details about a shift, you can message the Practice directly, see more details on how to do this here: How to message the practice?
Shift Availability
Shifts are posted onto Lantum by the healthcare organisation, Lantum have no control over when these become available. To keep an eye on new shifts added, check your 'Find Work' page on the web or you can download the Lantum App to find and apply for shifts on the go.
When you are invited to join Lantum by a healthcare organisation they will let us know if you are part of a smaller group that will see and be notified about all the shifts posted by them. All these shifts will also show on the 'Find Work' tab.
If you can't see any shifts, then please speak with your healthcare organisation to see if shifts have been posted that are available for your role or check back in a few days.
Application Accepted, What's Next?
Once an application has been accepted, you will receive an email notification and this will also appear in the 'My Diary' section of your profile. Booked shifts will show as a light green colour.
You can also refer to this guide: How to find my booked jobs and applications
What is the Lantum App?
The Lantum App is available by the App store on your iOS device, or in the Playstore on Android.
Please note when signing into the app login details are the same as when logging into your account on the web.
The Lantum app transforms your day-to-day in healthcare and means you can manage your diary on the go. You can read more about the app here.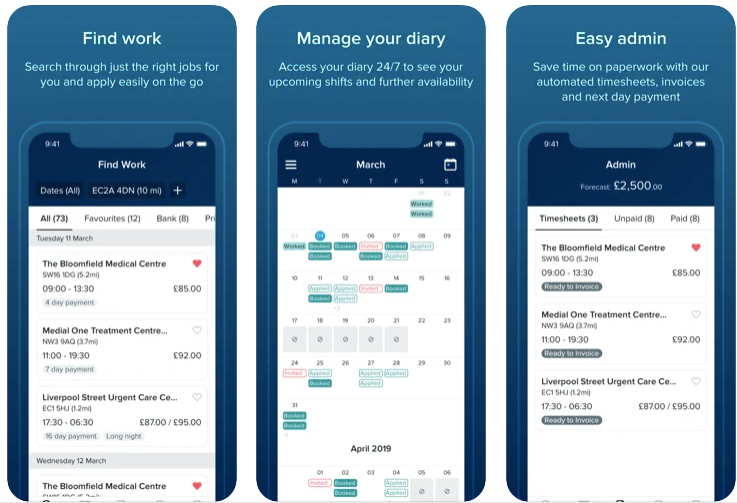 ----------
How To Get Paid
Please refer to this help guide 'How to get paid with vaccine shifts' for more information on confirming your timesheets, and how to get paid.
Customer support
If you experience any technical issues or have questions, please contact the Customer Support team by emailing support@lantum.com.