This guide will cover how to create a normal shift using Rota (Pro)
Getting started
Visit lantum.com and click login.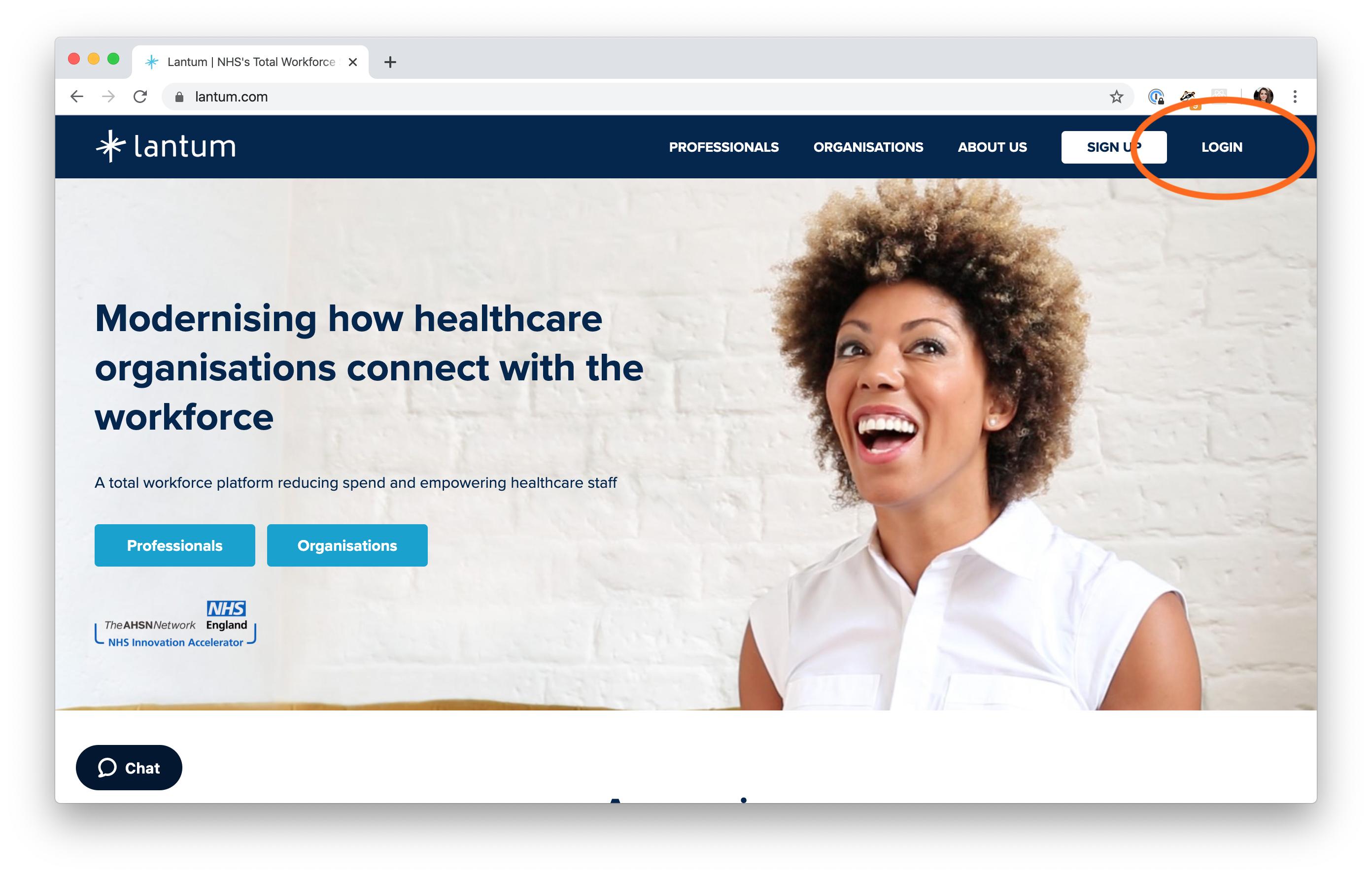 Type in your username (this will be the email address you signed up with) followed by your password.
Click the Login button to continue into Lantum.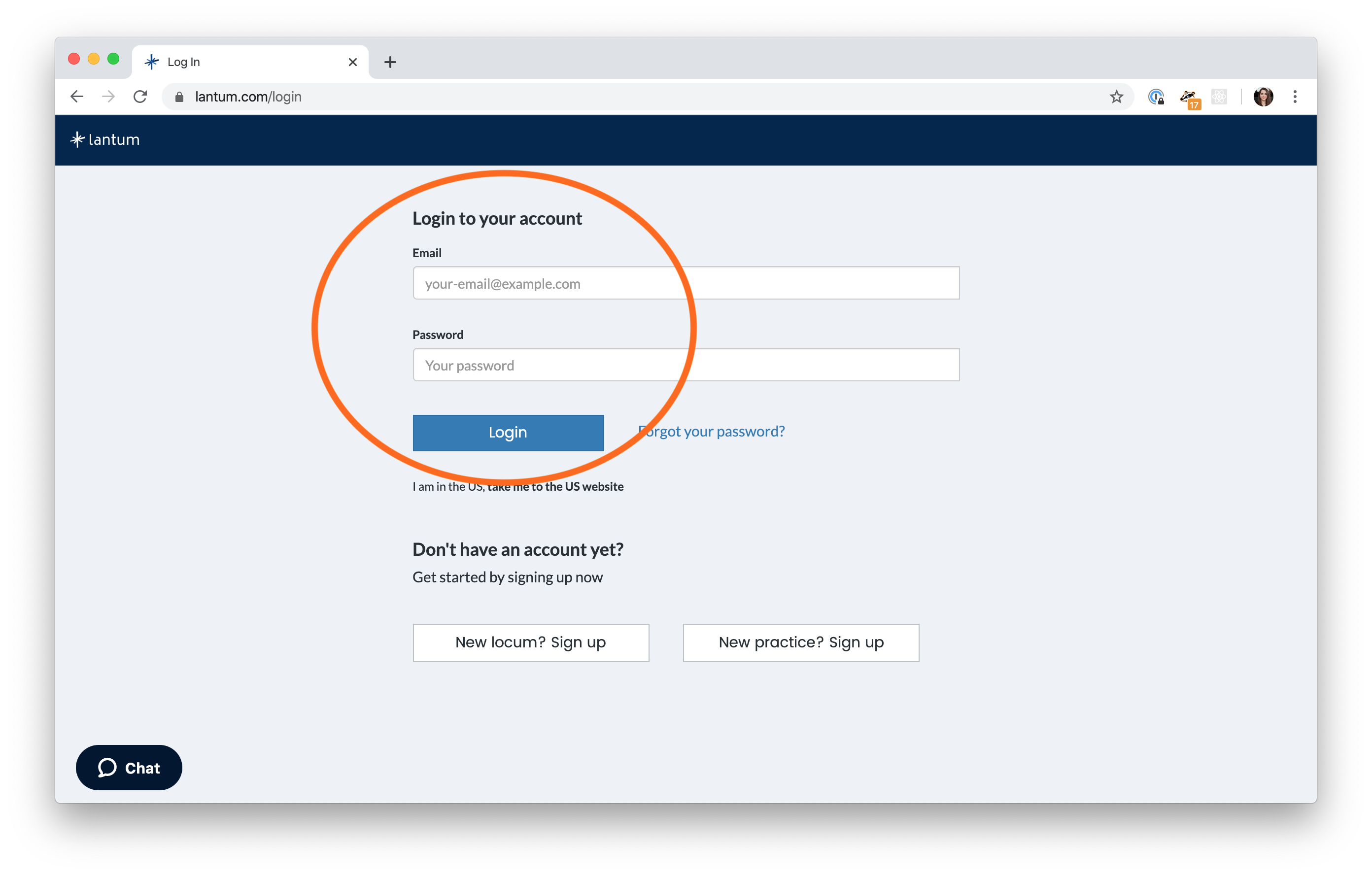 Creating a shift using Lantum Rota (Pro)
Once you have logged in, you should arrive onto your Rota page. It will look something like this: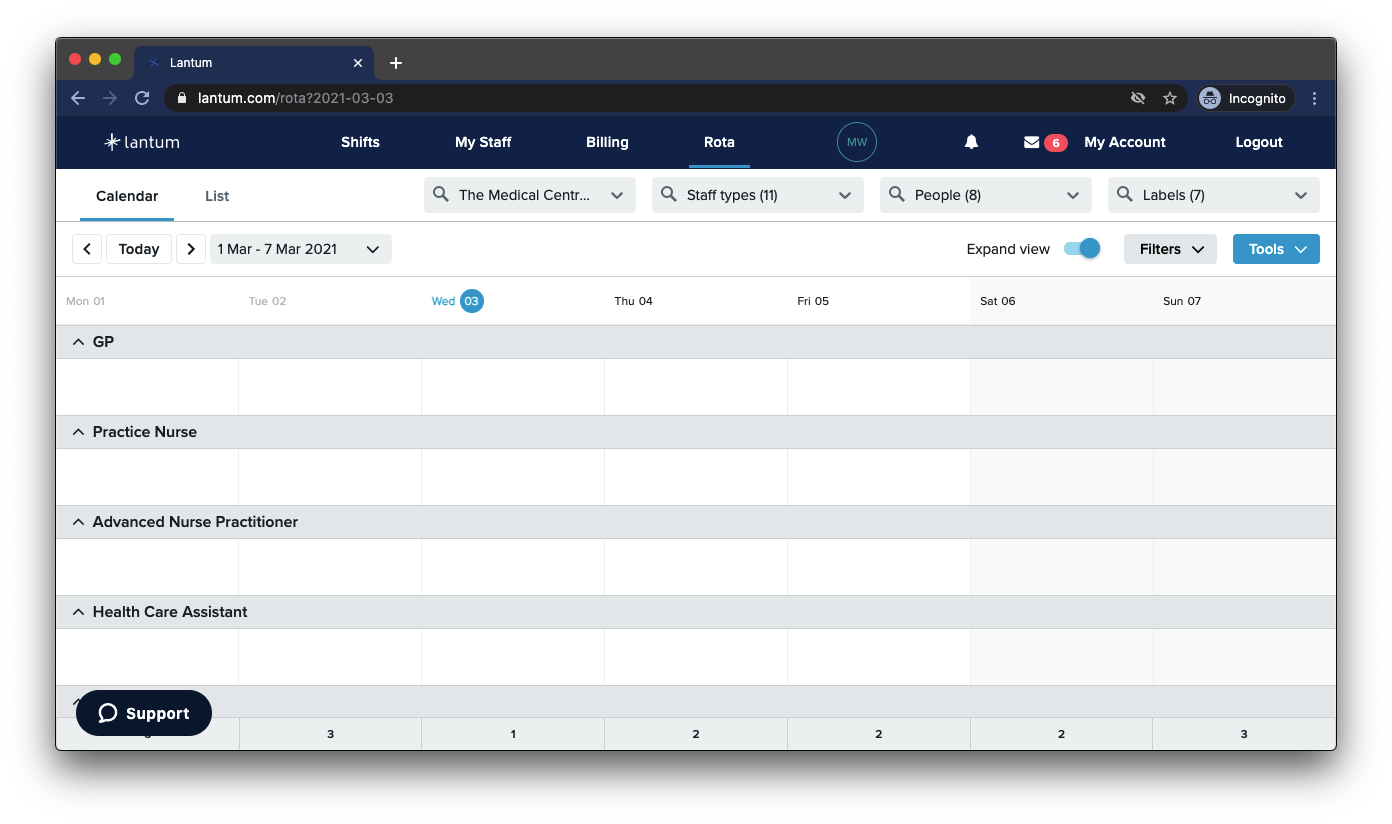 If not, start by making sure you are in the Rota view by clicking Rota on the top navigation bar.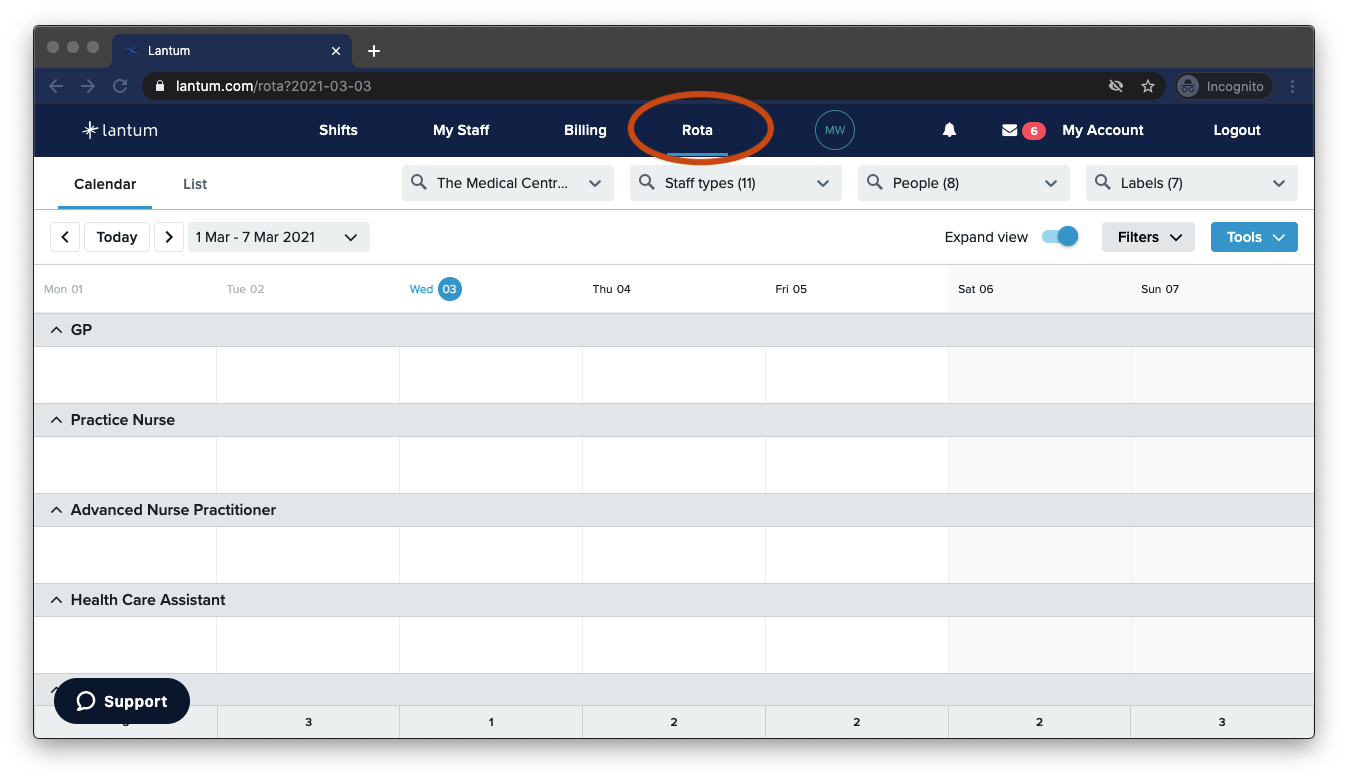 You can move the calendar to view different dates by using the arrows (Option 1 below). You can also click on the date box and select a time period further in the future or past (Option 2 below).
(Option 1) Using the arrows to move the calendar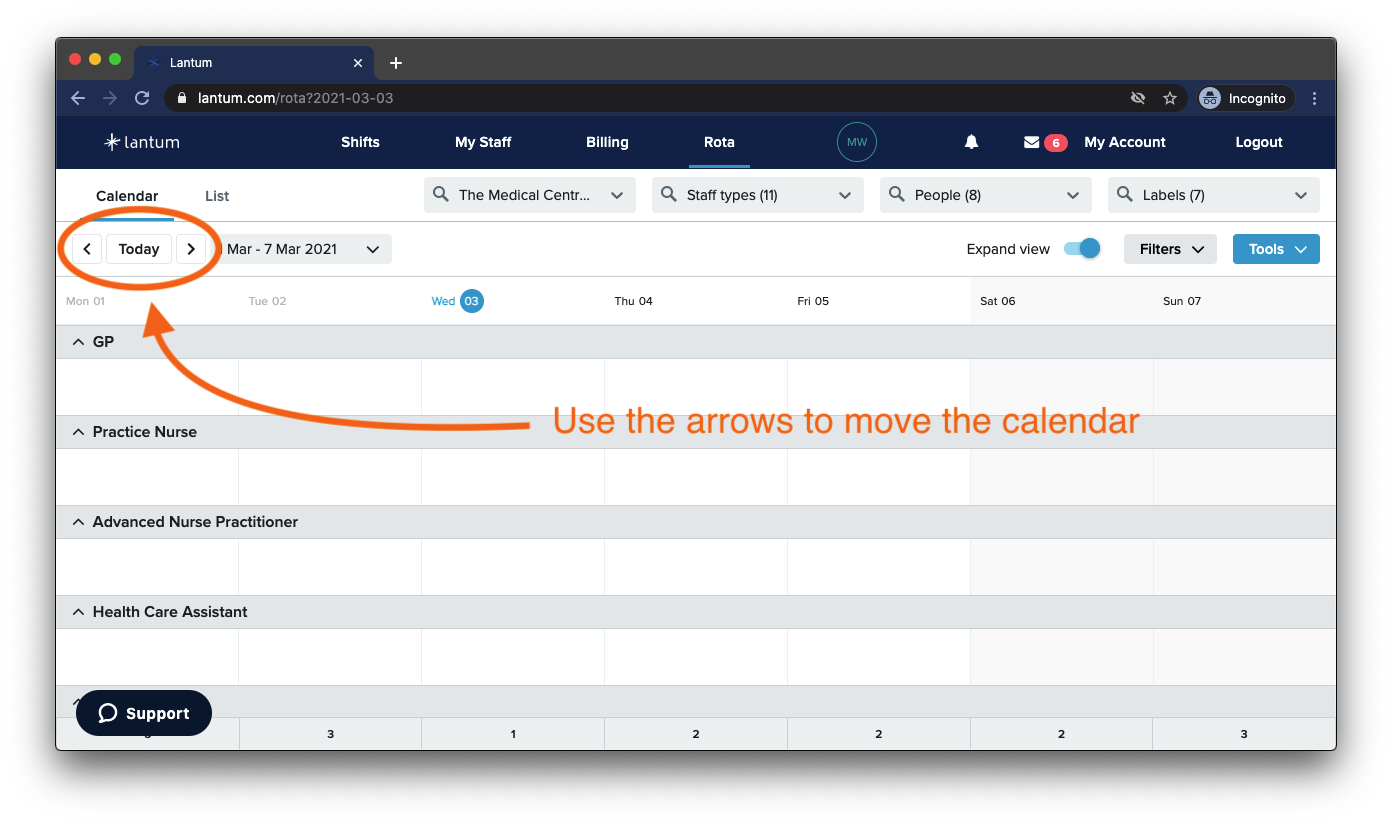 (Option 2) Using the date box to move the calendar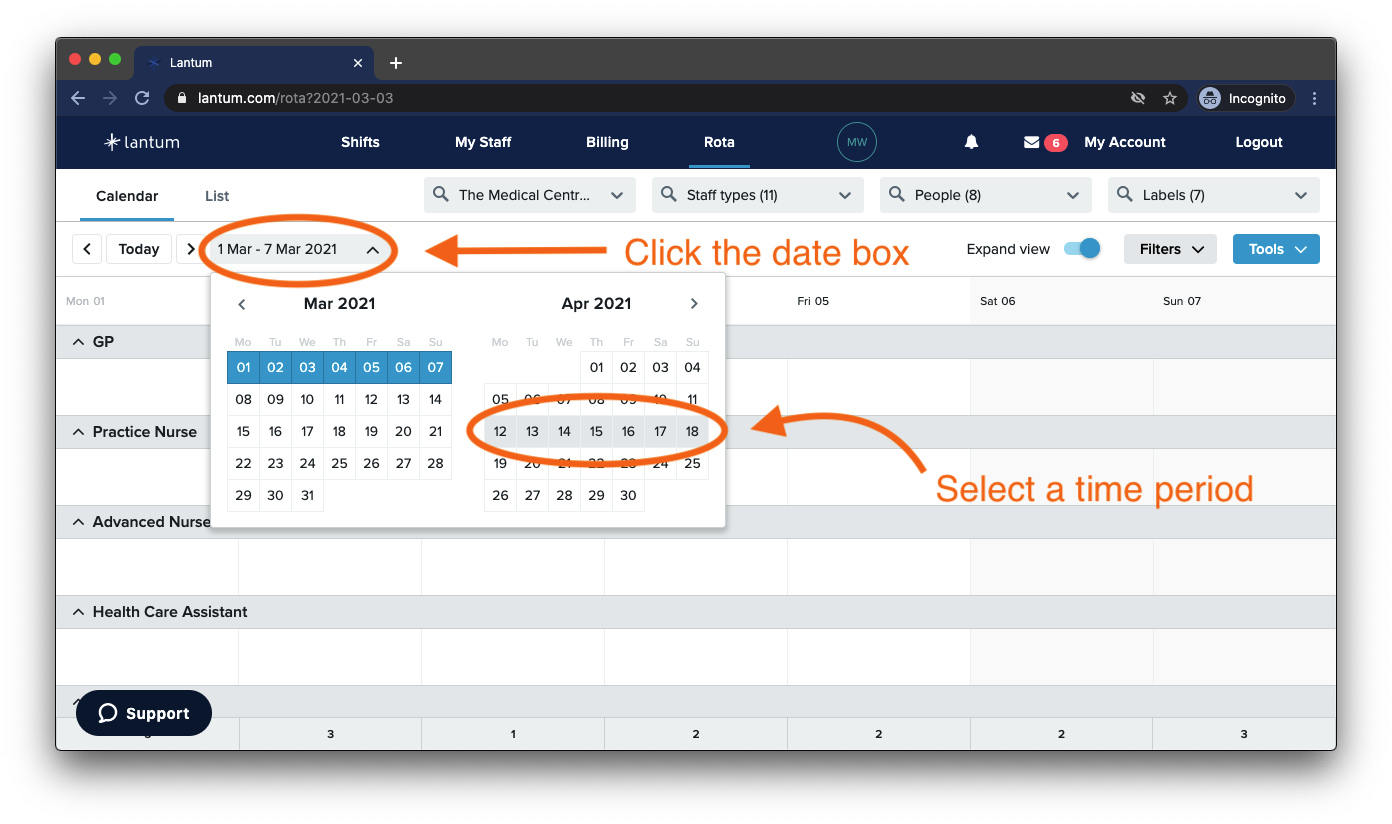 To create a shift, hold your mouse over a day on your Rota. You should see a dotted box outline appear. Click within the box to start creating your shift.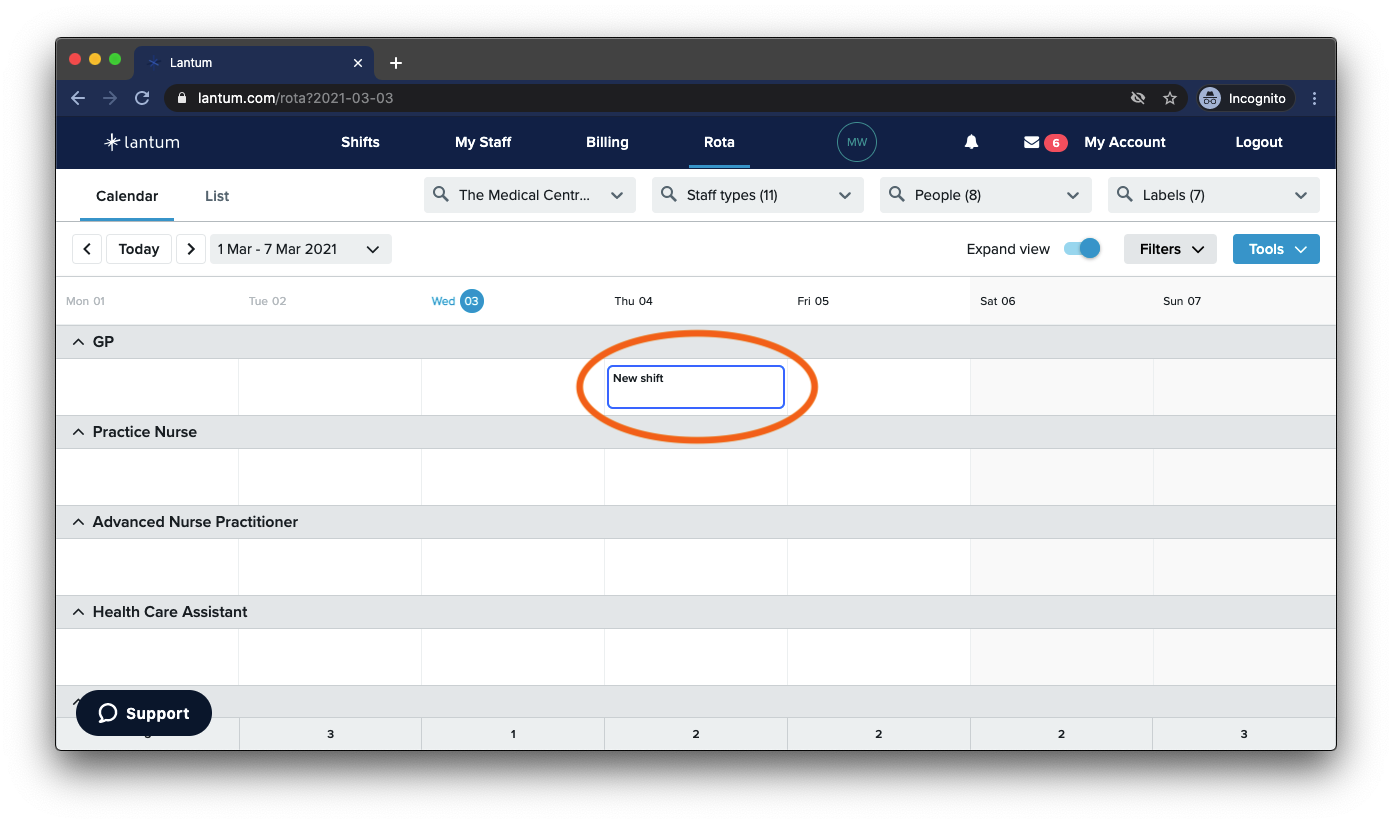 You'll see a panel appear on the right-hand side of the screen. This allows you to add the information you need to create your first shift.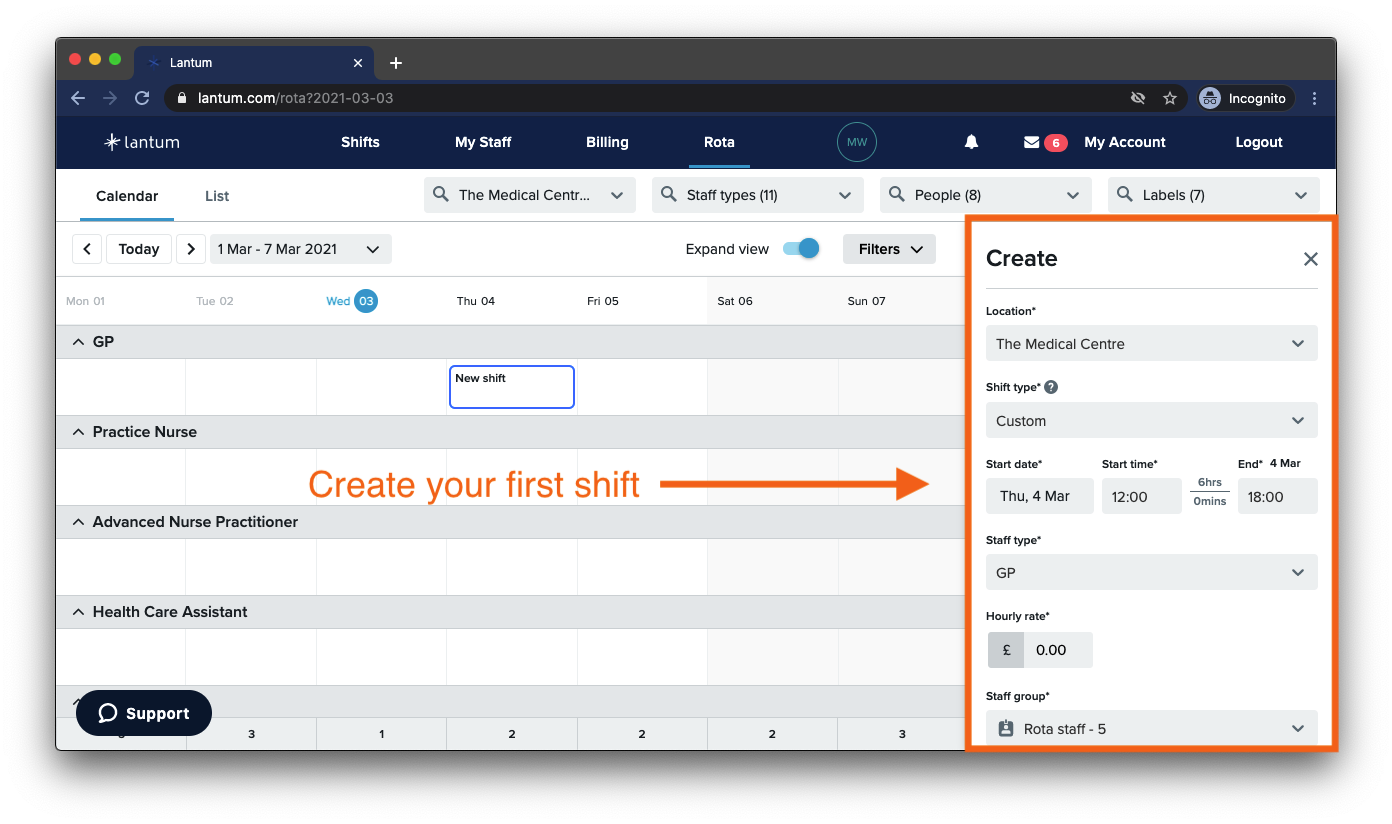 You'll only need to add this information once and it'll be remembered across all the shifts you create. You'll also be able to change this information when you create any new shift.
We'll walk through each field in turn.
Location
Click on the location field and select the location where the shift will be held. You may only have one location set up on Lantum. In that case, the dropdown will only show that one option.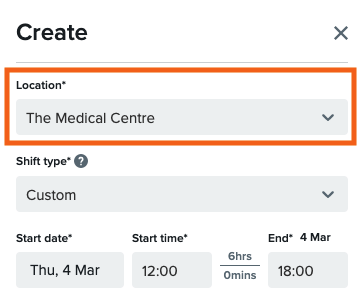 Shift type
Depending on your Lantum set up you may or may not see this. Clicking on this lets you choose from a list of preset shifts which update some of the information in the rest of the form (for example: start time and end time). 'Custom' means no shift type is set.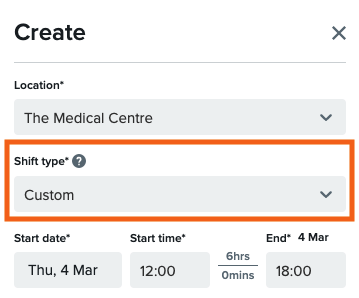 Date
This will be filled with the date you selected on the calendar previously. However, if you want to change it, you can click on the date to choose an alternative day.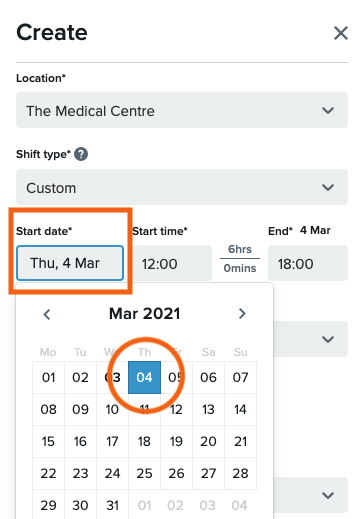 Start time and End time
Click on the Start time field and scroll to the time at which you would like the shift to start. Click on a time to select it and the dropdown will close.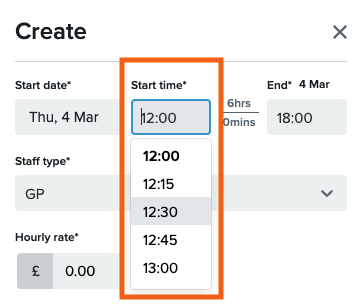 Repeat the process in the End time field for the time you would like the shift to end.
The divider between the boxes will show the total length of the shift.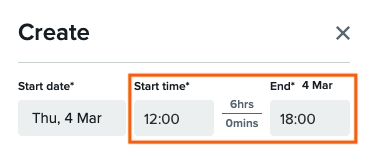 Staff type
This is where you can select the type of clinician needed for the shift. Your account will automatically be set up with the staff type GP.
If you have other types of staff that you would like to schedule using Lantum (for example: Nurse, Advanced Nurse Practitioner or Receptionist), you can contact your Customer Success Manager to set that up.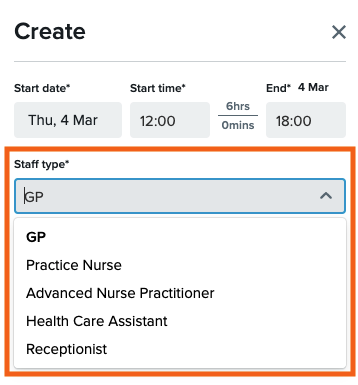 Hourly rate
Click to enter the hourly rate the clinician will be paid for the shift. The pension payment that the GP receives will either be included or excluded in this rate, depending on your practice settings.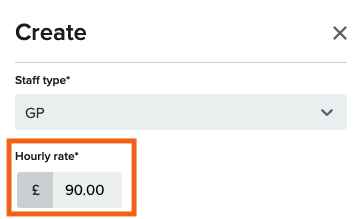 Who is the shift available to?
When you set who can view and apply for your shifts, you can choose between several options: Rota staff, a bank of staff, all banks (& Lantum Marketplace) or Priority Access.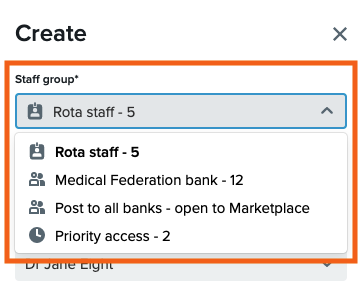 1) Rota Staff - this will not appear if you do not yet have staff set up as Rota Staff
These are the clinicians that have been added to your Rota Staff on Lantum. These will be clinicians who have a close relationship with the practice and that you can assign into shifts without asking their permission first. You can update who is listed in your Rota Staff for a particular location from the My Staff area of Lantum.
If this option is set up and you chose Rota Staff, you will be given the following options:
Open to all Rota Staff. Everyone in your group of Rota Staff will be able to apply for this

shift

. They will all receive an email notification once your rota has been published to let them know that

shift

s are available for them to apply to.


Assign individual. You can choose a specific clinician from your Rota Staff to book into this

shift

. They will receive an email notification once your rota has been published to let them know which

shift

s they're working.


Request individual. You can choose a specific clinician you would like to ask to work this

shift

. They won't be booked into the

shift

automatically and will have to approve or decline your request. Other clinicians from your Rota Staff will also be able to apply to the

shift

.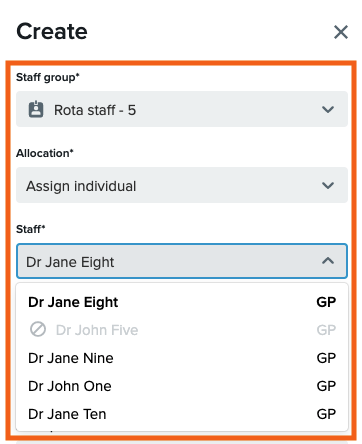 2) Individual staff bank - this will not appear if you do not have staff set up in a bank
These are clinicians available in your bank of staff for your practice or group of practices who you want to give access to see shifts and that you can assign into shifts without asking permission first.
Choosing an individual bank of staff will let you assign someone from within the bank by searching for them and then selecting them.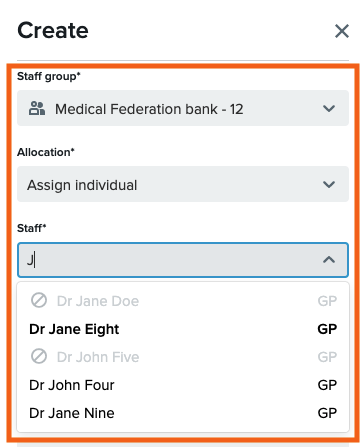 3) All banks / Marketplace
Choosing Post to all banks - open to Marketplace will make your shift visible to everyone - your Rota Staff, staff in your Banks and (in the case of GPs) any staff on the wider Lantum Marketplace.
Using this option you can't assign or invite. The clinician will need to apply themselves.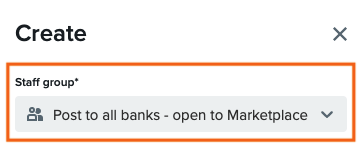 4) Priority Access:
These are clinicians that you've set as having priority access to your shifts. Priority Access means that a clinician can see and book a shift before anyone else on Lantum. If you don't yet have any staff set up with Priority Access this option will be greyed out. You can set staff up with priority access on the My Staff page (read our My Staff guide to learn more).

Once you have set some staff to have Priority Access, you will be able to select Priority Access from the list.

When you select Priority Access, you will see two new fields to set the day and time that the priority access period will end.

If no-one has booked into the shift by the time the Priority Access period has passed, it will be open to anyone on Lantum to apply to.


Shift details
Description
In this section, you can add any further information a clinician may want to know, such as parking information, practice size and nearby amenities.
We recommend you add as much detail as possible when writing the description as this increases your chances of finding a clinician to fill your shift.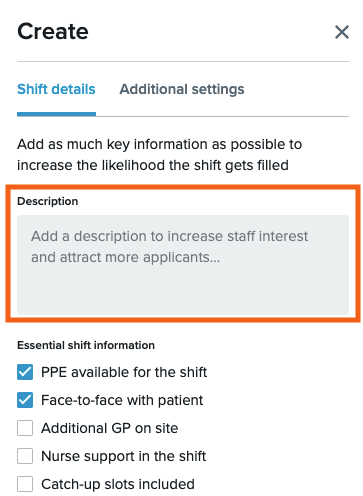 Essential shift information
This section contains a list of items GPs have told us they like to know about before they agree to work a shift. Completing these items accurately increases the chances of your shift being filled. Select as many boxes as apply to your shift.
These settings will be remembered for next time you create a shift so you won't have to fill them out each time.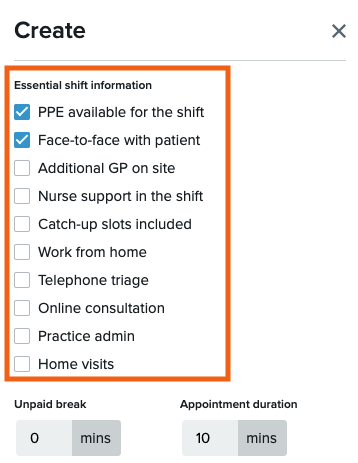 Unpaid break

If you want to include an unpaid break for the shift, you can add the length of the break here. This will be included within the time you've already set aside for the shift. You may want to extend your shift time to reflect the length of the break.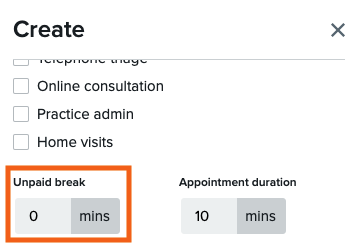 Appointment duration

This is where you can add the expected length of individual appointments that the clinician will cover.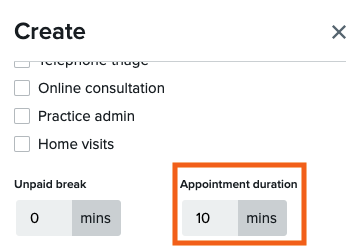 Additional settings
You can view a few more settings for your shift by clicking the Additional settings tab in the form.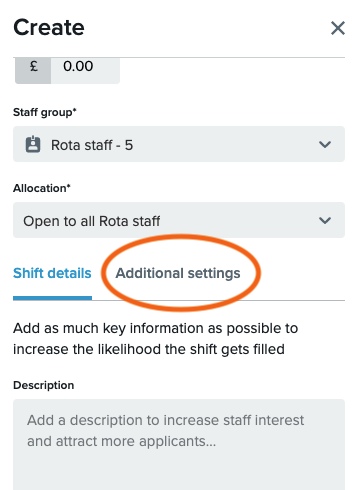 Pensions
You can set the way your practice handles pensions in your practice settings. Clicking edit will take you there. Read more about how pensions work on Lantum.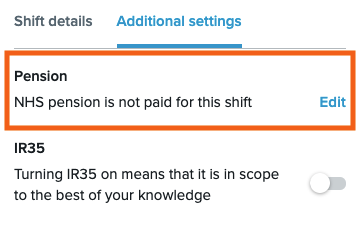 IR35
Clicking the switch allows you to declare whether the

shift

is in scope of IR35. You can use HMRC's IR35 tool to learn more or read about how IR35 works on Lantum for GPs.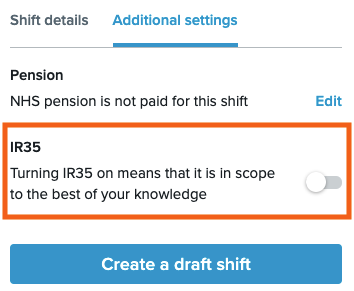 Click 'create your draft shift'
Once you're happy all the information for your shift is complete, click the blue Create a draft shift button.
This will save the shift you've created as a draft and show it on your Rota. You can edit the shift at any time (explained further in the Editing your shifts guide).

The shift won't be visible to clinicians or notify anyone until you've gone through the publish process (explained in the Publishing your shifts guide).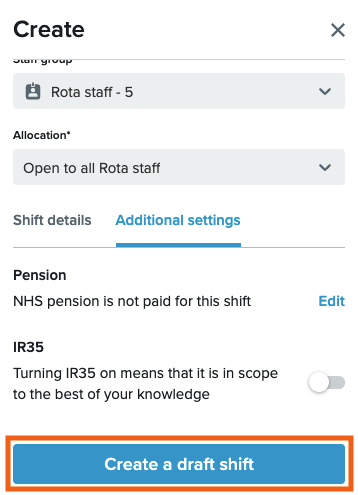 We recommend creating a week or more worth of draft shifts and publishing them all at the same time.
You can use the Duplicate tool to create multiple draft shifts at once. Read the guide to learn how to Duplicate draft shifts.
To your shifts visible to staff continue on to learn how to publish your shifts.
------
Customer Support
If you experience any technical issues or have questions, please contact the Customer Support team. You can get in touch either by using the online chat in the bottom left-hand corner or via email support@lantum.com