Syncing your Lantum account, means you can view your Lantum bookings, including time, location and session/shift details in your personal calendar.
Please note: you will not be able to edit your Lantum session/shift times from your personal calendar, and removing a session/shift from your personal calendar will not cancel the Lantum session/shift. The personal calendar view will periodically synchronise and update with the latest session/shift information, based on the frequency set in your calendar application.
How to sync your Lantum calendar to your personal calendar
Step 1
Access your personal calendar URL by logging in to Lantum and clicking on 'my diary' and select 'link calendar'.

Step 2
A small box (below) will appear. Click 'copy URL' and your personalised calendar URL will be copied to your clipboard. Access your calendar application and follow the instructions below in order to input the URL and subscribe to the calendar, using your calendar application's 'subscribe to calendar' function.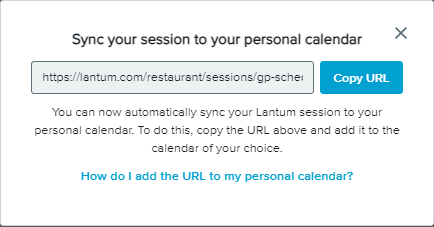 Calendar-specific support:
Google Calendar users follow please these instructions:
https://support.google.com/calendar/answer/37100?co=GENIE.Platform%3DDesktop&hl=en
Apple iCal users please follow these instructions:
https://support.apple.com/en-us/HT202361
Outlook users please follow these instructions:
https://support.office.com/en-ie/article/import-or-subscribe-to-a-calendar-in-outlook-com-cff1429c-5af6-41ec-a5b4-74f2c278e98c
------
Customer support
If you experience any technical issues or have questions, please contact the Customer Support team. You can get in touch either by using the online chat in the bottom left-hand corner or via email support@lantum.com.