Firstly, welcome to the Lantum platform! Once you have created your account, a member of our team will give you a call to make sure you're completely comfortable navigating around the site, browsing jobs and booking sessions.
Core documents
It's really important to us that all GPs using the site have the necessary and up-to-date documentation. Please take some time to upload a scan or good quality photo of the following documents to your profile:
We also highly recommend that you upload your indemnity certificate showing the level of cover you have taken out.
Although you will be covered for locum work under the new Clinical Negligence scheme for General Practice, some practices will still require to see your indemnity certificate as a mandatory document required to work there.
Uploading documents
To upload documents go to "My Account" in the blue bar at the top of the page. In your account overview page, scroll down to the section called 'Your Documents' and click on 'Upload documents'.
Finding work
To find work click 'Find work' tab at the top of the page in the blue bar. From here you can view all the sessions available at your regular practice.

On this page there are two tabs; 'Priority Access' and 'Practices I follow'.
On the 'Priority Access' tab you will be able to see jobs for a set period of time. With Priority Access jobs you'll get first choice of the sessions available at the practice you have been invited by.
On the 'Practices I follow' tab you'll be able to see all sessions available at any of the practices you 'follow'.
So if you work at other practices in addition to the practice that invited you to join Lantum, you can follow them and see all work available on one page. You can then narrow the search down to suit your preferences using the search tools on the left-hand side of the page. Select the days of the week on the calendar to narrow your search.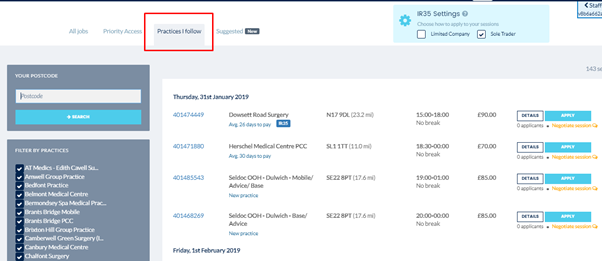 Simply click on the job to view more details or click on the blue 'Apply' button if you wish to apply for that session. Once you have applied, a notification will be sent to the practice manager who will confirm that you've been booked in.
Customer support
If you experience any technical issues or have questions, please contact the Customer Support team on 0203 771 8411 or support@lantum.com