You must ensure your payment details are up to date on Lantum (formerly Network Locum) so that practices are able to pay you as quickly as possible after they receive your invoice. 
Where do I update my billing information?
To get started, click on 'Your account', then go to 'Edit payment details', where you can update your billing address and add multiple bank accounts. 

Contact information
At the top of your payment details page is where you can update your contact information. It's important to ensure your postal address is up to date as this will be printed onto your invoice. 
Here is where you can also update your mobile number as this is how we can contact you should there be any issues with your bookings or payments. 

Payment accounts
At the bottom of the page, you'll find a form to add your billing details and this is the account that your payments will be made to when booking through Lantum as these are the details we include on your invoice.
Please make sure these are correct, if your bank details are incorrect this will delay payment. 
If you claim pension, here is where you claim pension and you must ensure that the "I claim NHS pension" box is ticked. 
If you work as a limited company, you must click 'I operate as a Limited Company'.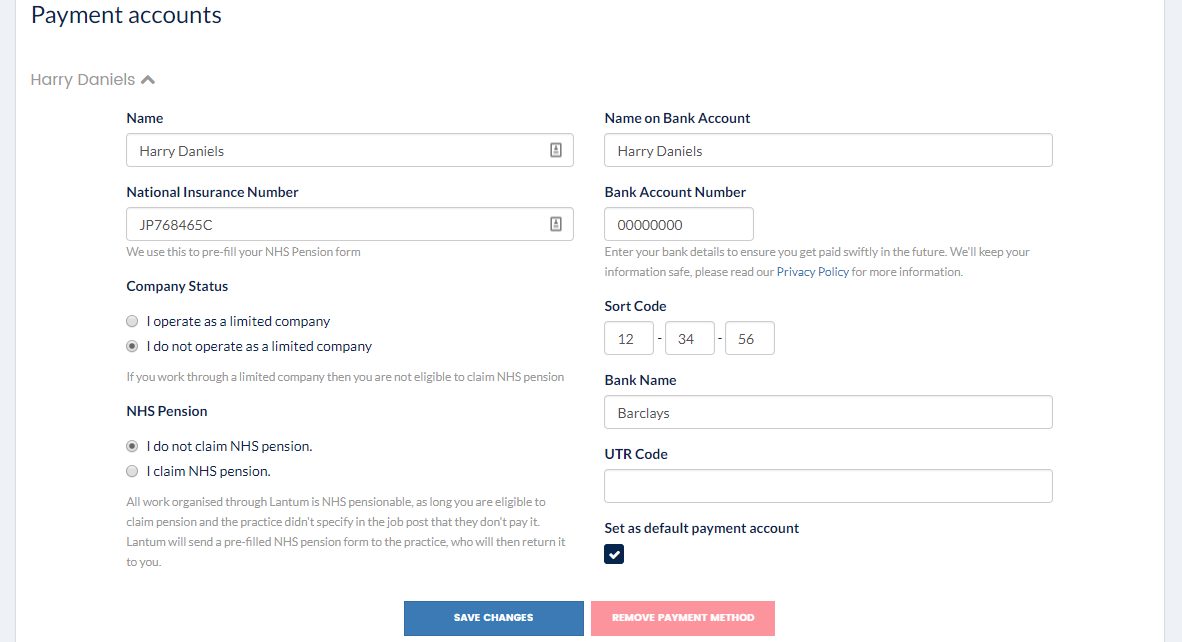 Adding more than one bank account
You can now add more than one bank account so you can switch bank accounts upon invoicing if you wish to change depending on the sessions you bill for.
To do this, click the "add new payment account" at the top of the page. Please see below:

Once you've clicked the button, you will see a new form to enter your bank details for another bank account. 
Customer support
If you experience any technical issues or have questions, please contact the Customer Support team.
You can get in touch either by using the online chat (08:00-21:00 weekdays, 08:00-20:00 weekends) in the bottom right-hand corner or email support@lantum.com.
Alternatively, call us on 0203 771 8411 (08:00 – 21:00 weekdays, weekends 08:00 – 20:00)
One more thing…
If your page display differs from the example layout, please download or update Google Chrome for the latest version.