Find work
When logging into Lantum it is as simple as click 'Find Work' at the top of your page.

When looking for sessions/shifts, we suggest you click 'All jobs' to see everything that is available, there is also the option to click different tabs to streamline the type of work you are looking for:

All Jobs
'All Jobs', shows you every session/shift that is available to you, here you can also set different filters.
Location

- automatically generated by your postcode to show local sessions/shifts

Miles

- by toggling the mile radius (to your postcode)

Practice

- type the name of a practice/site to see the results for that one only

Date

- book sessions/shifts in advance by toggling the dates

All shifts - shows all vacant sessions/shifts for all days
Filter by Job types
In hours
Out of hours
Urgent Care Centres
Telehealth
Search Results
Once you have clicked the search button, your search results will appear to the right of the search bar according to your criteria.
You will find your 6-digit session/shift reference number (401....). Please take note of this, as all jobs have a unique session/shift number. Use this if you have any queries relating to the session/shift.
You should also see:
Practice/site name, postcode and the distance from your search location
Average days to pay is listed under the practice/site name
Session/shift times and any unpaid breaks
The hourly rate option to 'Negotiate Session/Shift'
For more information about the session/shift job description, click 'Details'.
Application
Apply for a session/shift directly from the search results by clicking 'Apply'.
You will be prompted to confirm; then your application will be sent. Once your application is sent, the apply button will then say 'Withdraw' this is there if you would like to withdraw your application.
View all your applications under 'My diary' and either look via the 'List' view shown below or they will show as yellow in the 'Calendar' view.
You can apply to multiple sessions/shifts on the same day, as soon as you are booked into one, all the others will be automatically withdrawn so you can never double book with Lantum!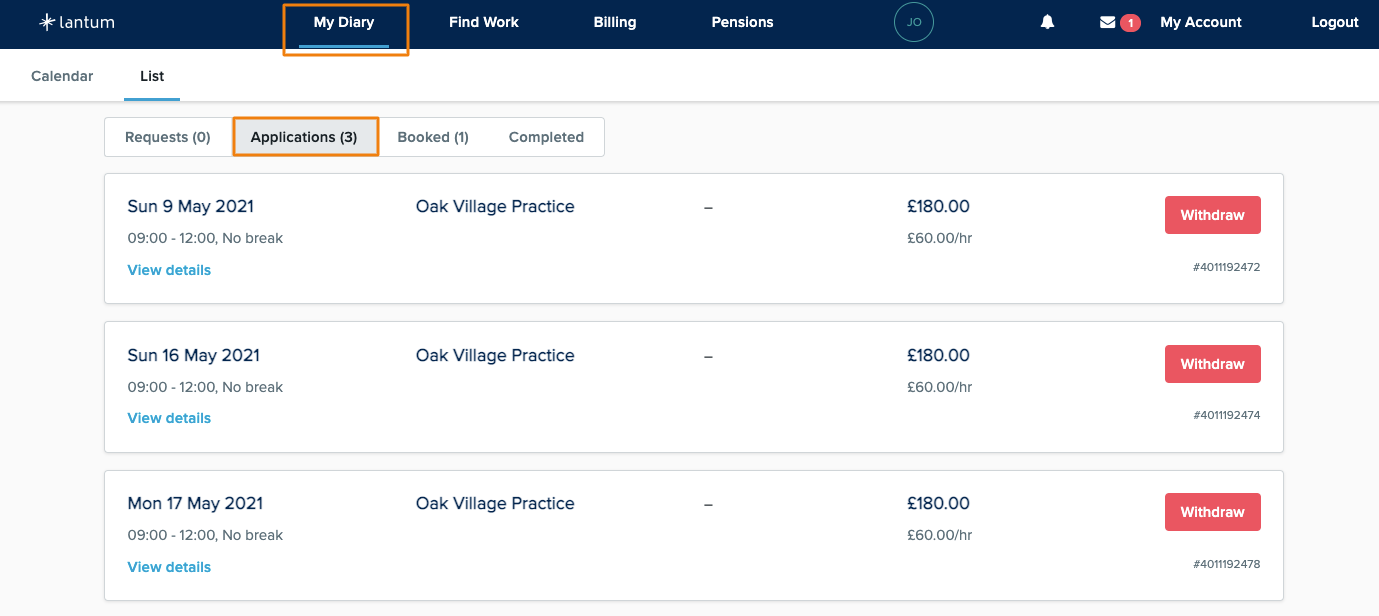 Click 'Details' next to any session/shift for all information.

This will bring a popup showing more information: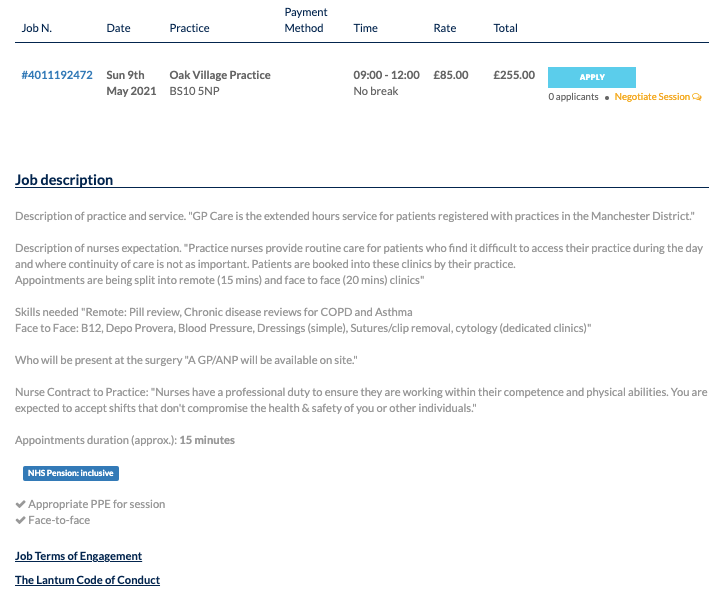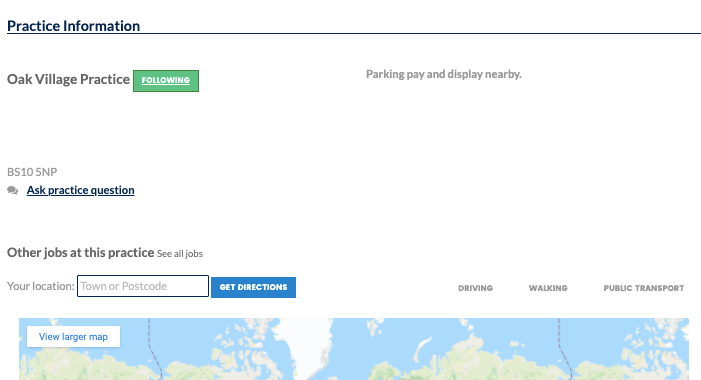 Session/shift details you should see are:
Date, day, start time and end time, break information
Billable hours and hourly rate
Job description – please read this carefully as you are agreeing to undertake these duties when you apply for this session/shift
Practice information – details of the practice/site including address and description
Follow this Practice by clicking the link against its name
View the practice/site on a map and plan your travel route
Rota
If you have a rota relationship with a practice or site, when they post rota sessions, these will be shown under this tab.
Bank
Any sessions/shifts posted by the Practice Group Bank you are part of will show here as well as within 'All Jobs'
C-19 Response
The NHS needs help responding to the Covid-19 crisis. Covid-19 response sessions will be posted on Lantum with 'C-19' shown under the session number (#401....) so you are aware this is a Covid session.
Priority Access
View any 'Priority Access' sessions/shifts available to you via this tab, you will only see these sessions/shifts if you have a 'Priority Access' relationship with the practice/site that are posting these sessions/shifts.
Practices I Follow
Search for sessions/shifts from practices/sites you follow, if you are part of a practice group bank, you will see sessions/shifts from practices/sites within the bank. If you are interested in receiving updates from more practices/sites:
Click 'Details' on a session/shift, scroll down within the job description and click 'follow' next to the corresponding practice/site.
------
Customer Support
If you experience any technical issues or have questions, please contact the Customer Support team.
You can get in touch either by using the online chat in the bottom left-hand corner or via email support@lantum.com