The 'My Doctors' page on your main menu allows you to manage Doctors that have worked for your Practice through Lantum or Doctors that are in your GP Bank.
On this page, you can:
Add a Doctor from outside your network into your GP bank
Allow instant booking, saving you the need to review applications from your favourite GPs you know and trust.
Allow priority access 
Leave feedback for Doctors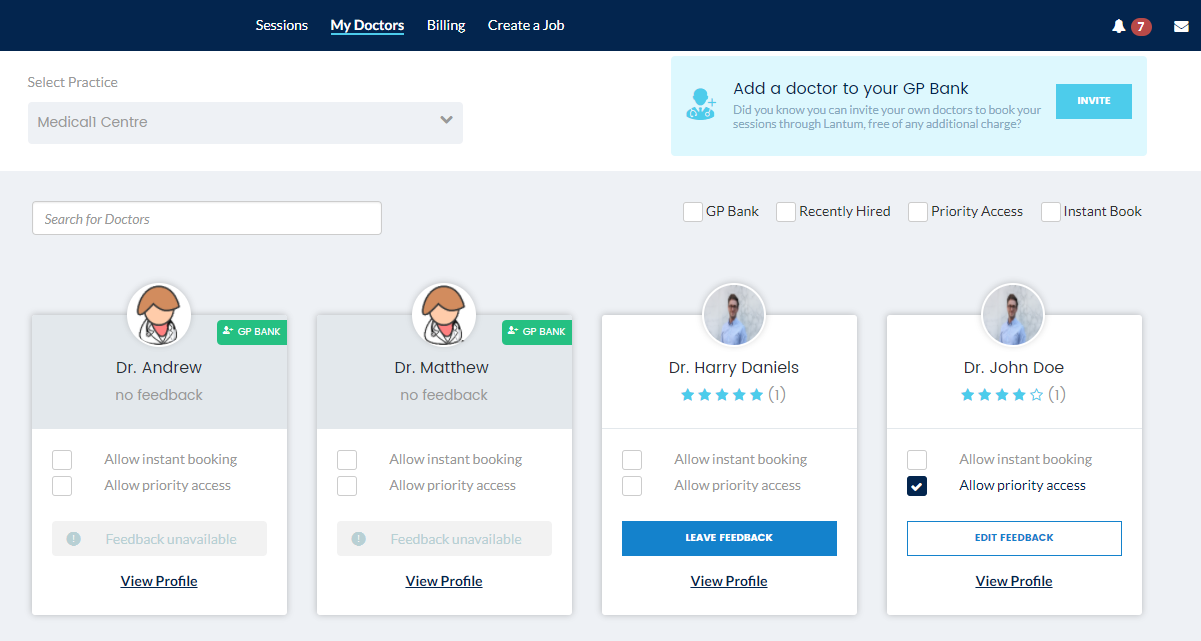 Add a Doctor to your GP bank
Adding a Doctor to your GP bank allows you to book a Doctor from your network outside of Lantum without paying the service Lantum fee. 
By adding one of your own Locums to your own GP bank on Lantum, you'll be able to manage all your invoicing and locum sessions in one place. 
1) Simply click the 'invite' button next to 'Add a doctor to your GP Bank' in the top right hand corner.
2) Then enter the Doctors full name and email address.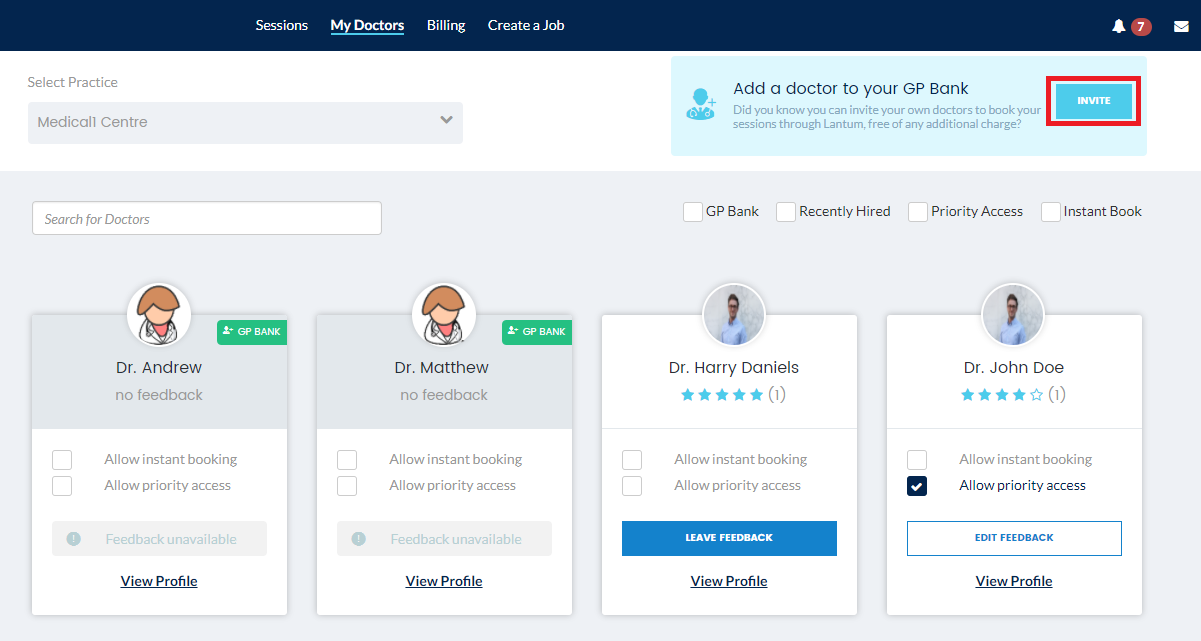 If the Doctor you wish to invite is already on Lantum, ask for their email address that they use to login to Lantum and enter this into the invite form and they will be instantly added to the your 'My Doctors' page. 
Any Doctors that are in your free GP Bank will have a green logo in the top right corner to highlight this. The GPs without the 'GP bank' logo are GPs who you have worked with before. 
Instant booking
Instant booking allows you to give Doctors the ability to book into any posted sessions without them requiring your approval.
This is a great way to prioritise a Doctor that you particularly enjoyed working with.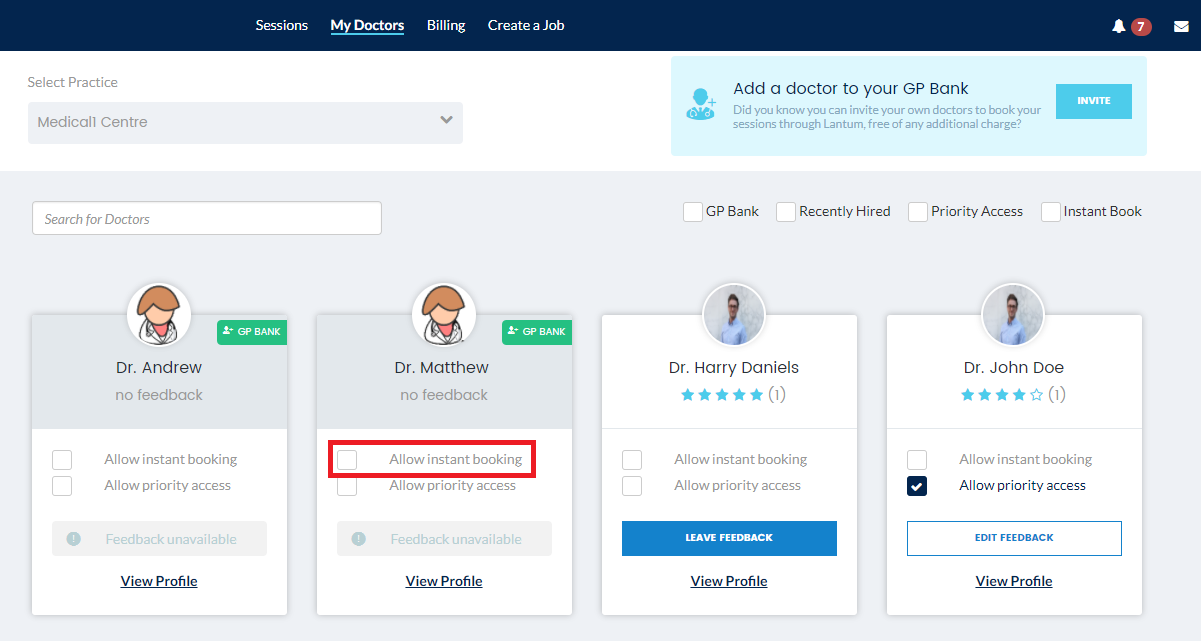 1)  To allow a GP to Instant Book your jobs, tick/untick the 'allow instant booking' option under the relevant Doctor's name.
2) To remove a GP from your Instant Book jobs group, simply de-select the Instant Book icon on the GPs profile card.
Priority access
If you would like to post a session so that only certain doctor(s) can see it, you can do this by allowing those Doctors priority access.
You can set the period that you would like to isolate the session when posting the job. After the specified time, the sessions will be visible to all doctors.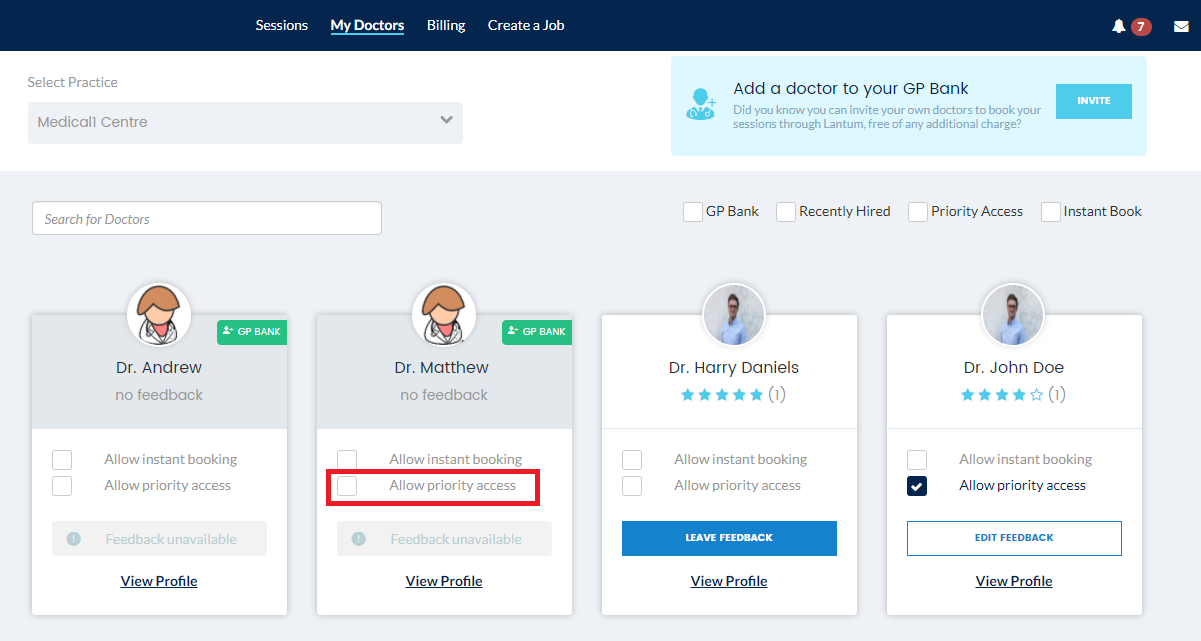 1) To give a GP permission to see your jobs  first, select the 'Priority Access' icon on the GPs profile card.
2) To remove a GP from your Priority Access jobs group, simply de-select the 'Priority Access' icon on the GPs profile card.
Leave Feedback
You can leave feedback for Doctors that have worked at your surgery by rating their work out of 5 stars (5 being exceptional), which will be visible to all Practice Managers.
You will also be asked to leave a comment. The comment should reflect the professional work that the Doctor conducted during the time of the session. This will only be seen by the  GP so we advise you to be as constructive as possible.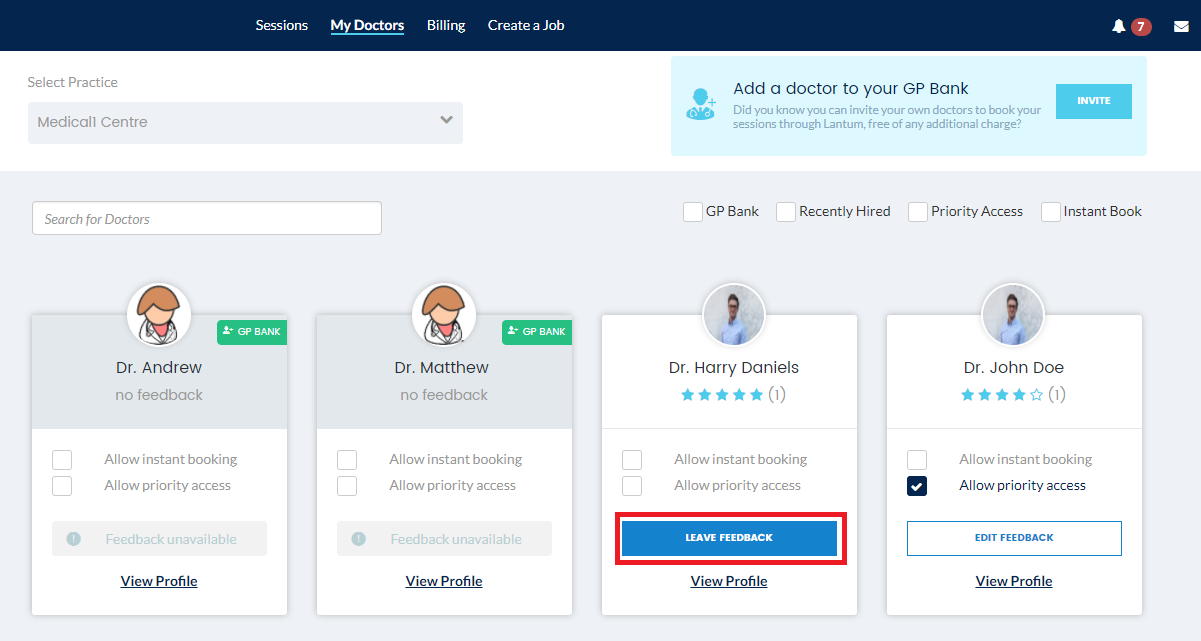 1) To leave feedback, click 'leave feedback' button for the GP you wish to leave feedback for
2) If you wish to edit your feedback once submitted, you can do so by clicking 'edit feedback' button on the My Doctors page
Customer support
If you experience any technical issues or have questions, please contact the Customer Support team.
You can get in touch either by using the online chat (08:00-21:00 weekdays, 08:00-20:00 weekends) in the bottom right-hand corner or email support@lantum.com.
Alternatively, call us on 0203 771 8411 (08:00 – 21:00 weekdays, weekends 08:00 – 20:00)
One more thing…
If your page display differs from the example layout, please download or update Google Chrome for the latest version.