Why can't I apply for OOH/UTC sessions?
Due to the nature of the work undertaken, most Out of Hours providers require more documents and an extra level of compliance than you need to book work for standard sessions.
If you haven't uploaded all the documents required to work a particular session, you will be unable to click the Apply button. If you hover over Apply, you will see a list of the documents you'll need to upload in order to work this session.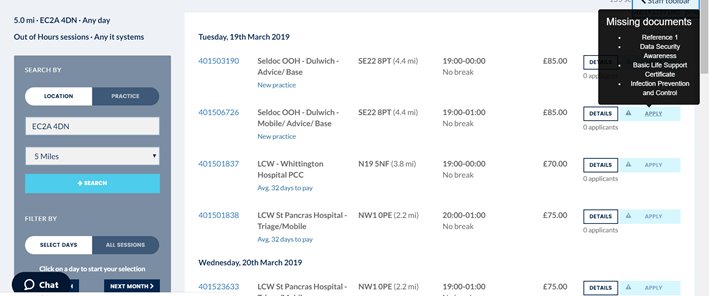 What do I need to be compliant for these sessions?
The exact documents you need vary from provider to provider. However, we have compiled a list of recommended documents to upload, based on the industry standard.
As well as the 3 core documents required on Lantum (your CV, a valid DBS and your passport), these are the additional documents we suggest you upload:
Basic Life Support certificate (less than 12 months old)
Safeguarding Children Level 3 (less than 3 years old)
Safeguarding Adults Level 2 (less than 3 years old, some providers require level 3)
Data Security Awareness (less than 1 year old)
Infection Prevention and Control (less than 3 years old)
Occupational Health (

especially HepB, MMR)

Last Appraisal
Sepsis (less than 1 year old)
Reference 1 (less than 3 years old)
Reference 2 (less than 3 years old)
This is not a finite list; some providers do require more or fewer documents.
However, these are the most commonly requested for OOH/ UTC work.
Please note that some practices may not accept an online BLS certificate and will require a face to face BLS certificate.
If you are missing any of these training documents, they can be completed for free on the website: e-LfH
How do I upload documents to my profile?
You can upload documents to your profile here.
Please see our guide on uploading your documents, which explains how to add your documents to your Lantum profile.
------
Clinical Governance
If you'd like to chat with a member of our Clinical Governance team about your documents, please email clinical.governance@lantum.com
Customer Support
If you experience any technical issues or have questions, please contact the Customer Support team.
You can get in touch either by using the online chat in the bottom left-hand corner, or via email support@lantum.com