Due to the nature of the work undertaken, most Out of Hours providers require more documents and an extra level of compliance than our basic level of compliance to book work.
If you don't have all the documents required to work a particular session uploaded to your profile, you will be unable to click the 'Apply' button. If you hover over 'Apply', you will see a list of the documents you'll need to upload to work this session.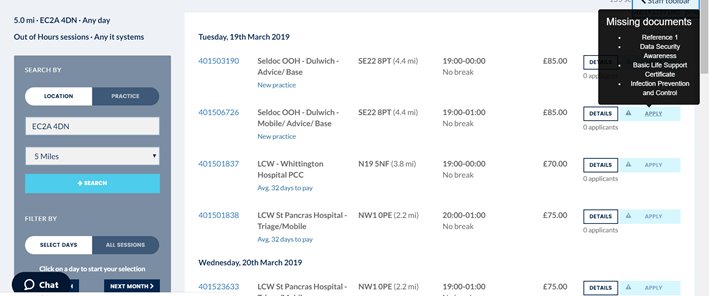 Although it varies in the detail from provider to provider, all of them require that you have the following: 
Basic Life Support certificate (less than 12 months old)
Safeguarding Children Level 3 (less than 3 years old)
Safeguarding Adults Level 2 (less than 3 years old, some providers require level 3)
Data Security Awareness (less than 1 year old) 
Equality, Diversity and Human Rights (less than 3 years old)
Infection Prevention and Control (less than 3 years old)
Preventing Radicalisation (less than 3 years old) 
Mental Capacity Act (less than 3 years old) 
Proof of Hepatitis B status
Referee contacts for two referees
Your smartcard number. 
This is not a finite list; some providers do require more or fewer documents, however these are the most commonly requested. If you have not completed the necessary Safeguarding qualifications, you can use these free links to complete an online course: 
Please note that some practices may not accept an online BLS certificate and will require a face to face BLS certificate.
 Some of the other documents requested by OOH providers include:
Deprivation of Liberty Safeguards (DoLS)
Fire Training
Moving and Handling
Health and Safety
Although there are not specific fields on your profile for these documents, you can upload them to the 'Extra Documents' field, or email these to our Clinical Governance team.
You can upload documents to your profile here.
Clinical Governance
If you would like to chat with a member of the Clinical Governance team about your documents, please call 020 3790 7463 or email clinical.governance@lantum.com. 
General Enquiries
If you experience any technical issues or have questions, please contact the Customer Support team.
You can get in touch either by using the online chat (08:00-21:00 weekdays, 08:00-20:00 weekends) in the bottom right-hand corner or email support@lantum.com.
Alternatively, call us on 0203 771 8411 (08:00 – 21:00 weekdays, weekends 08:00 – 20:00)
One more thing…
If your page display differs from the example layout, please download or update Google Chrome for the latest version.